Muthoot Finance engages Madhuri Dixit as their Brand Ambassador
Muthoot Finance - India's No. 1 Most Trusted Financial Services Brand as per The Brand Trust Report 2022, and the country's leading Gold Loan NBFC, has signed on the widely loved, multi-talented, highly awarded actress, Madhuri Dixit, as its brand ambassador.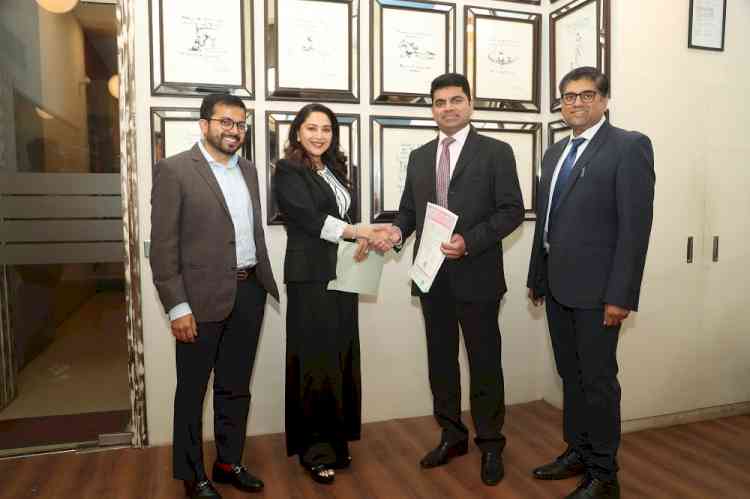 Alexander George Muthoot, Joint Managing Director of The Muthoot Group along with Eapen Alexander Muthoot, Executive Director and Abhinav Iyer, Senior General Manager - Marketing and Strategy along with Madhuri Dixit in Mumbai.


New Delhi, February 3, 2023: Muthoot Finance - India's No. 1 Most Trusted Financial Services Brand as per The Brand Trust Report 2022, and the country's leading Gold Loan NBFC, has signed on the widely loved, multi-talented, highly awarded actress, Madhuri Dixit, as its brand ambassador. The brand also continues to have the legendary Shri Amitabh Bachchan as their brand ambassador as well.
 
Sharing the news about this new association Alexander George Muthoot, Joint Managing Director of The Muthoot Group said, "We are very delighted to welcome Smt. Madhuri Dixit Ji to The Muthoot Group family as our Brand Ambassador. We are confident that her association with us will greatly help in taking the brand to much greater heights. We continue to have Shri. Amitabh Bachchan Ji as our brand ambassador as well."
 
He further added, "Madhuri Ji has demonstrated a strong connection with diverse audiences through her extraordinary performances, for a long period of time. She continues to amaze people through her new roles as a producer and a reality show judge. Her immense success and goodwill can be attributed to her work ethic, dedication, integrity, and uncompromising values. Our brand resonates with her on-screen legacy and off-screen image, which makes her a natural and cultural fit for our brand.
 
For over centuries, Muthoot Finance has transformed people's lives by empowering their dreams into reality. We have earned people's trust and confidence over generations of customers. Evidence can be seen in several real life stories, wherein people saw their lives transform by taking a gold loan from Muthoot Finance. In 2022, Madhuri Ji had narrated some of these inspiring real-life stories of Muthoot Finance customers in a radio programme called 'Muthoot Finance Sunheri Soch Season-2', which illustrated the unique role of our brand in the lives of people, and therefore in nation-building as well.
 
As most Indians would know, Muthoot Finance is a financial supermarket with 5750+ branches across India and abroad. Madhuri Ji will be endorsing a bouquet of our financial products including Gold Loans, Home Loans, Personal Loans, and Vehicle Loans, which are all poised for the next level of growth. For Gold Loans in particular, where we happen to be the category leader amongst NBFCs, our main objective has been to put idle-lying household gold to productive use and help people achieve their dreams. It is a task that needs a strong connection with diverse audiences to accomplish its potential. We are confident that our new association with Madhuri Ji will greatly help us to achieve this transformational objective."
 
Padma Shri, Madhuri Dixit also shared her thoughts on becoming the brand ambassador for the brand. She said, "Muthoot Finance is India's Most Trusted Financial Services Brand as certified by The Brand Trust Report 2022 and I am happy to be associated with them. They are a brand with a strong legacy of doing business with values and crores of Indians have transformed their lives after availing a Gold Loan from Muthoot Finance."
 
She added, "Last year, I had the privilege of knowing about some life-changing, real-life success stories of Muthoot Finance gold loan customers. I look forward to being a part of this wonderful journey yet again."