Municipal Councillor Mamta Ashu holds meeting with senior officials of Tata Projects Ltd 
Says she is only concerned that LED Streetlights in city should remain functional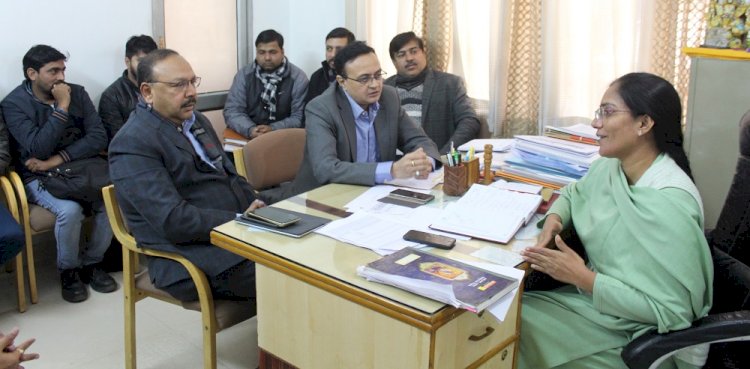 Ludhiana: MC Councillor Mrs Mamta Ashu today said that the Capt Amarinder Singh led Punjab government is committed for providing best infrastructure to the residents. She said this during a meeting held with senior officials of Tata Projects Ltd (TPL) and Tata Sons regarding the slow pace of LED streetlights project as well as problems being faced by residents due to that at her office, here today. She chaired this meeting on behalf of Punjab Food, Civil Supplies & Consumer Affairs Minister Mr Bharat Bhushan Ashu.
During the meeting, Mrs Mamta Ashu, herself a MC Councillor from ward number 67 of the city, said that TPL is replacing old streetlights with LED luminaries,  but the cause of concern is that majority of the LED streetlights are lying non functional, which is causing much inconvenience to the city residents. She said that as per the terms and conditions of the contract, the implementation timeline of the project was such that the successful bidder was to supply, install, test and commission the LED luminaries and three-phase CCMS panels within 9 months from the date of award of work, that had ended on May 7, 2019, but sadly the company has still not completed the work.
She said that as the city is facing foggy days and the streetlights are lying non-functional, which is causing several problems to the commuters as well as city residents. She warned that if there is any loss of property or life, then the sole responsibility would lie with the officials of Ludhiana Smart City, Municipal Corporation as well as Tata Projects Ltd (TPL).
A team of Tata Company comprising Mr Tanmoy Chakrabarty, Group Government Affairs Officer, Tata Sons, Mr Rajendra Inani, Business Head, Smart Cities, Tata Projects Ltd, and several other officials today held a meeting with Mrs Mamta Ashu at her office today. The officials assured that all the grievances would be redressed on priority basis, besides the project would also be completed shortly.
Mrs Ashu told the company officials that her sole aim is that the city residents do not face any problems due to non functional streetlights in their respective areas. She also made it clear that any decision regarding giving extension to TPL would be taken only after discussing this matter in all party meeting in Municipal Corporation Ludhiana. She also urged the residents to take full advantage of the mobile app "Street Light Complaint" for filing their complaints in case the streetlights near them are not operational. She said that the residents can also use the dedicated toll free number 1800-121-484848 to register their complaints with TPL. The company officials assured that if any resident registers his complaint, that would be redressed within 48 hours.