Municipal Councillor Harkarandeep Vaid distributes smartphones under Punjab Smart Connect Scheme
Students expressed gratitude to the Punjab Chief Minister Captain Amarinder Singh for the smartphones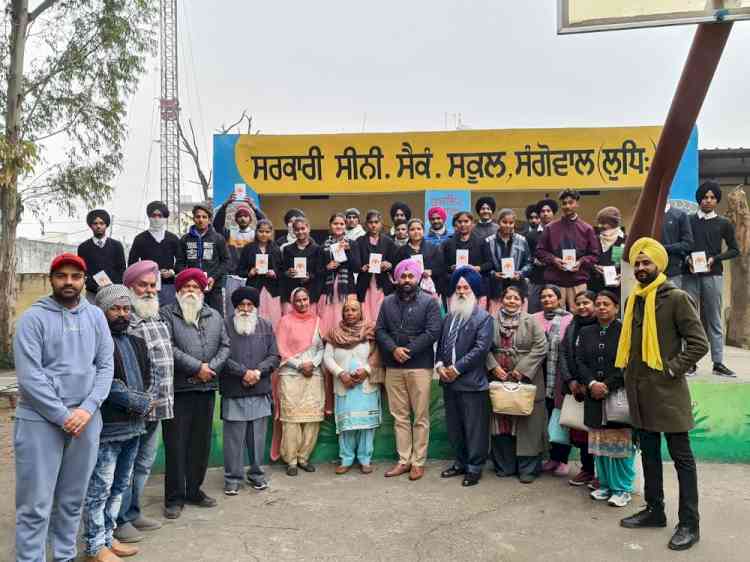 Ludhiana: nder the 'Punjab Smart Connect Scheme' launched by the Punjab Government, Municipal Councillor Harkarandeep Singh Vaid under the leadership of MLA Gill Kuldeep Singh Vaid distributed smartphones to the students of Class XII at Government Senior Secondary School at village Sanghowal here.
    Harkarandeep Singh Vaid was accompanied by village Sarpanch Charan Kaur, Panchayat members Ajmer Singh, Jasveer Kaur, Bikkar Singh, former Sarpanch Navjot Singh, School Principal Ravinder Singh and Mamta Kathpal.
    Vaid said that in the present pandemic situation, these phones had assumed a bigger importance as they had become a necessity for education continuity and would empower the poor youth who could not afford them.
    He said that the Punjab Government is committed for the welfare of students and in the era of online education smartphones will help them to study effectively.
    Meanwhile, students expressed gratitude to the Punjab Chief Minister Captain Amarinder Singh for the smartphones citing that they were unable to afford smartphones due to financial constraints at home but this initiative of the government has given a new impetus to their desire to get an education.