M.S.Bhatia elected new Secretary of Communist Party of India (CPI) Ludhiana Urban
Party conference calls for a struggle against price rise, unemployment and communal and divisive agenda of the Modi govt.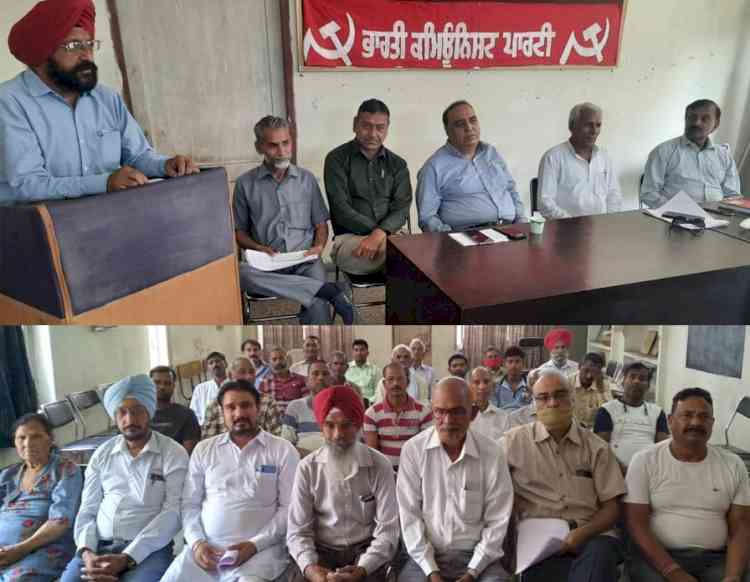 Ludhiana, May 23, 2022: Communist Party of India (CPI) Ludhiana Urban  unanimously elected M.S . Bhatia as the new secretary and Vijay Kumar, Kulwant Kaur and Dr. Vinod Kumar as the assistant secretaries in the conference. The conference called for a struggle against inflation and communalism and for a solution to the problems of the city. As per the national call the party will launch its outreach programme on the above said issues. Ramesh Rattan the outgoing secretary warned that the ruling BJP government is  pushing the country  towards chaos. Having failed on all fronts to solve socio-economic problems and exorbitant price rise as a result of serving only the interests of the corporate, they are now resorting to dangerous game of inciting violence among communities by spreading hatred through their outfits. D.P.Maur District Secretary of party while inaugurating the conference said that party will strive hard to raise issues concerning city's development.
 
Dr Arun Mitra member national council of the CPI said that time ahead is very challenging as the communal and divisive forces are raising their head. This has to be fought back relentlessly. M.S. Bhatia said soon a meeting of the newly elected city committee members will be called to chart out programme of action. 
 
Conference was held here at Shaheed Karnail Singh Isrhu Bhawan under the chairmanship of Naval Chibbar Advocate, Kulwant Kaur and Dr. Vinod Kumar. Delegates elected from different branches participated.