Ms. and Mr. Fresher crowned at Fresher Party at IIFD
Harsh crowned as Mr Fresher while Arzoo crowned as Miss Fresher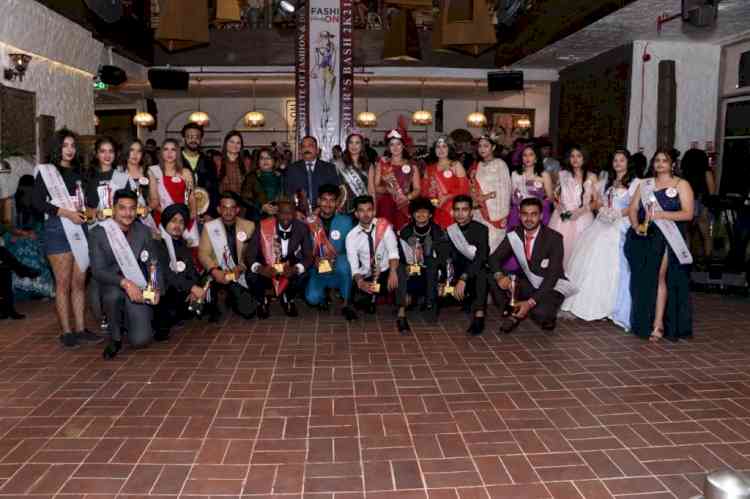 Chandigarh, November 26, 2021: Fresher's Party" in any college is an event which every student eagerly awaits from their time of admission, thus Indian Institute of Fashion and Designing organized an event to welcome new students in a friendly atmosphere and to encourage their creative impulses to boost their confidence. It has been hosted by the college to provide all the seniors and juniors with a platform to finally bond and unite to celebrate being part of the college.
In Nua Cafe, the celebration started  by the anchors Dimple and Ashray with the warm welcome of all the dignitaries and the jury present in the function. The Chief Guest for the event was Dr Swapna Misra; "Mrs. India 2021", 
Senior students arranged many activities for fresher's which included cultural events where everyone got chance to showcase their talent.
Events started with solo dance performance by one of the best dancer of first year which followed by a group dance performance by senior batch. After this all the other participants of this great evening came up with their unique ramp walk on theme "Hollywood Fascination". There were about 71 participants including 52 girls and 19 boys. They introduced themselves one by one in the allotted time which was 1 min per contestant. All of them were impressive in their own way. Later on the Fun team lead by Dimple and Ashray took on the stage in their funny way of attracting the audience towards them and adding cherry to the pie. Also, both the anchors went up to the audience and asked them random question which any one would answer. After this, all the 71 participants came up on the stage with their hidden talent and performed one by one. Second round of performances went on very well. Two performances including one singing and one couple dance was arranged meanwhile to provide jury with sufficient time for deciding the results. The dance performance was very much exciting to watch. After the dance performance, results were declared and out of 71 contestants, 20 of them were finally crowned with the following titles:
● Mr. Hollywood- Harsh
● Miss Hollywood- Arzoo Nagpal
● 1st Runner Up Male- Majok
● 1st Runner Up Female- Japjee
● 2nd Runner Up Male- Akshay
● 2nd Runner Up Female- Muskaan Dogra
● Rapunzel Hair- Nikeeta
● James Bond Walk- Anshul
● Cinderella Beauty- Sonia
● Cute Tinkerbell- Araina Walia
● Trendsetter- Geetanz Guleria
● Superstar- Sandeep
● The Devil Wears Prada- Jaanvi
● Notorious Star-Varinder
● Stylistic-Vaishali
● Million Dollar Smile- Liza
● Cat Women Walk- Sakshi Sati
● Witty Wit Walker- Ankit
● Playful Dory- Sugam
● Scintillating Jolie- Meera
Once the results were out, it was the stage of achievement for the contestants. All awards were given by the jury to the respective students, with the trophies to all, including sachets and gifts for Mr. and Miss Fresher along with the trophies. Finally, the vote of thanks was given by Ashray Batra and Dimple Deopa ,which was very happening and enlightening for all and made the whole event worth watching, attending and participating.
Mr. Harsh & Miss Arzoo were chosen as the Mr. and Miss Fresher, respectively. The event was finally concluded with a fun and frolic DJ and delicious meal.
Though COVID 19 made it difficult for the college to admire the fresher's for their decision to choose Indian Institute of Fashion and Design for their education, this time IIFD came up with very positive spirit of celebrating the togetherness which ended during the pandemic.
The whole event was mesmerizing for the audience and we all hope Indian Institute of Fashion and Design to come up with more such events in the coming future.