MP Tewari lays foundation stone for four-lane steel bridge
Bridge to be built at cost of Rs 10.48 crore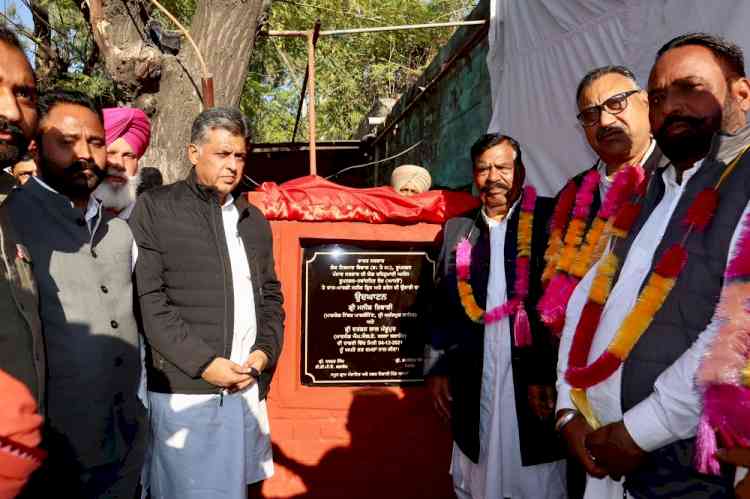 Balachaur, December 4, 2021: Sri Anandpur Sahib Member of Parliament (MP) Manish Tewari on Saturday laid the foundation stone of four-lane steel bridge on Phagwara-Ropar highway in Asron village on Saturday. The bridge would be constructed at the cost of Rs 10.48 crore in next nine months.
Accompanied by MLA Balachaur Darshan Lal Mangupur, Punjab Large Industrial Development Board Chairman Pawan Dewan, Anandpur Sahib MP said that this major road infrastructure would provide much needed impetus to the development of the district. Tewari said that that he has been working round the clock for ensuring holistic development of the region and added he would leave no stone unturned to cherish the dreams of the people. He directed the officials to keep constant watch on the project so that it can be completed within timeline.
He also handed over a grant cheque of Rs 4.75 lakh on behalf of state government to the village panchayat and assured them of an additional grant of Rs 2 lakh from his MPLAD Fund. He also inaugurated the development works completed in village.  Applauding the services of local MLA Darshan Lal Mangupur, MP Tewari said that he has been doing very well for alround development of the Balachaur Constituency. MP said that the issue of closure of factories in this area would be resolved soon as he is very much concern about the loss of jobs by local people.
Prominent among others present on the occasion included Director Madan lal Hakla, Jaswinder singh Sarpnach, Darshan singh BDPO, Dharmpal Chiarman Block Samiti and Hitraj Jandi.