MP, MLAs, Advisor to CM and DC kick-start 5th phase of farmers' debt relief scheme
Debt worth Rs 23.54 crore to 21455 farm labourers and landless farming members of PACs waived off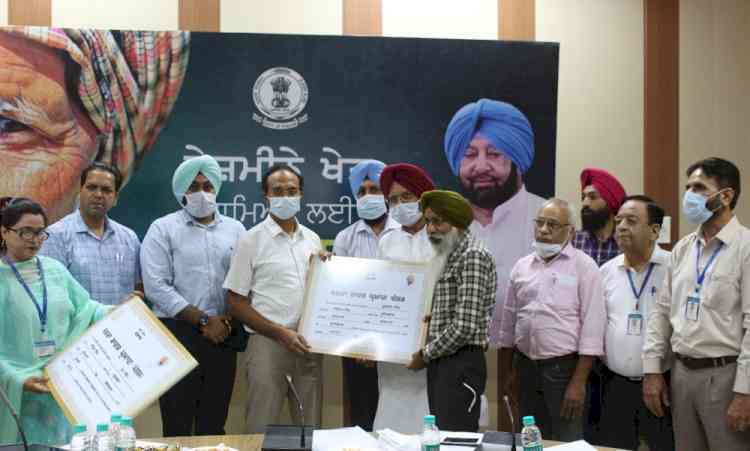 Ludhiana, August 20, 2021: Fatehgarh Sahib Member of Parliament (MP) Dr Amar Singh, Member of Legislative Assembly (MLAs) Rakesh Pandey, Amrik Singh Dhillon, Kuldeep Vaid, Political Advisor to Chief Minister Capt.Sandeep Singh Sandhu and Deputy Commissioner Varinder Kumar Sharma on launched 5th phase of Farmers' Debt Relief Scheme for the farm labourers and landless farming members of Primary Agriculture Co-operative Societies.
In Ludhiana, loans worth Rs 23.54 crore of 21455 beneficiaries were waived off on Friday in nine separate events held in Raikot, Dakha, Gill, Jagraon, Khanna, Ludhiana West, Payal, Sahnewal and Samrala. 
As per details, 4429 beneficiaries of Dakha got relief of Rs 4.74 crore, 2964 beneficiaries in Gill got the relief of Rs 3.37 crore, loan worth Rs 3.09 crore was given to 2901 landless farmers and farm labourers in Jagraon, Rs 67.22 lakh of 638 beneficiaries in Khanna. 
Similarly, 37 farmers of Ludhiana west were benefitted worth Rs 2.87 lakh, relief of Rs 83.84 lakh was given to 726 beneficiaries in Payal, loans worth Rs 4.71 crore of 4628 farmers was waived off in Raikot, Rs 3.86 crore of 3132 beneficiaries were ensured in Sahnewal and benefit of Rs 2.19 crore was given to 2000 farmers in Samrala. 
They envisioned that the debt relief scheme started by the Punjab Chief Minister Captain Amarinder Singh was aimed to bring golden era for the farmers' and mitigating the woes of farming community, who were facing lot of problems due to the debt trap. They said that the state government was committed for the well-being of the farmers.
They said that this 5th phase of the debt relief scheme would eliminate the pains of the farming community especially landless farmers and farm labourers by providing much needed succor to them.  They also hailed the Punjab Chief Minister Captain Amarinder Singh for taking this historic step to guide the destiny of the farming community.
They further said that under the visionary and dynamic leadership of the Chief Minister Captain Amarinder Singh, the state government was leaving no stone unturned for giving a major fillip to the overall development of the state. They said that several path breaking initiatives have been taken by the state government to put the state back on high growth trajectory.
They stated that relentless efforts were being made by the state government to ensure the welfare of every strata of society.
They said that the concerted efforts on the part of the state government would soon give the desired results and Punjab would again emerge as a front ranking state in the country.     
On the occasion, ADC Khanna Sakkatar Singh, Chairman Zila Parishad Yadwinder Singh Jandiali, MC Harkaran Singh Vaid, Managing Director The Ludhiana Central Cooperative Bank Jaspal Singh, District Manager Paramjit Kaur, Senior Manager Gurnam Pal, ITO Rama Kant, Inspector Ankur Sharma and others were present. 
Meanwhile, Satwinder Bitti in Sahnewal, Satnam Soni and Gurdeep Singh in Khanna and Soni Galib in Jagraon handed over the relief certificates.