MP lays foundation stone of water supply and sewage infrastructure projects worth Rs 35 crore in Raikot
The current sewage structure in town had become old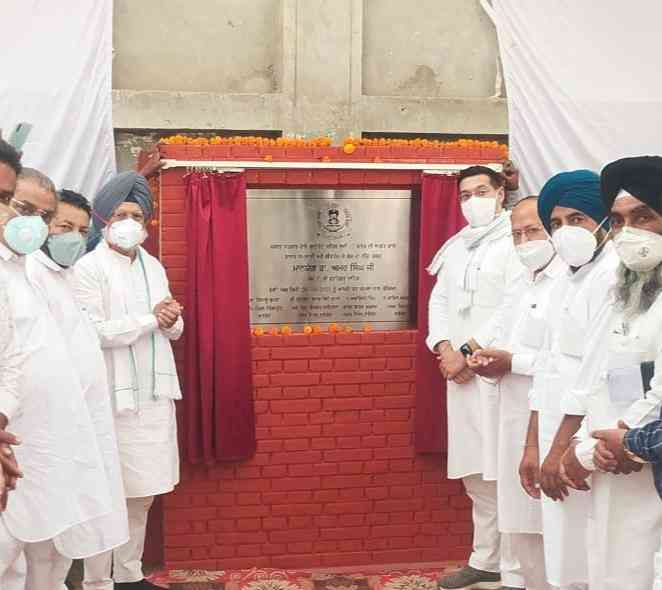 Ludhiana: In order to enhance the quality of urban life in Raikot, Fatehgarh Sahib Member of Parliament (MP) Dr Amar Singh on Wednesday laid the foundation stone of two sewerage infrastructure projects worth Rs 35 crore under Municipal Development Funds. 
The projects include laying of water supply and sewage system in Raikot town which would cost Rs 17 crore and setting up of a Sewage treatment plant (STP) worth Rs 18 crore. 
Divulging the details, Dr Singh said that the current sewage structure in town had become old and was causing nuisance among the people with the drains were getting choked at most of times. He said that new sewage treatment plant will ensure a clean environment in the town. 
He directed the officials to ensure construction works on a war footing and said both projects would be completed within timelines. 
Meanwhile, MP Fatehgarh Sahib also said that he would leave no stone unturned to develop Raikot as a model town of the state. He said that the projects of the modern bus stand at the cost of Rs 4 crore and mother and child centre in Civil Hospital Raikot worth Rs 10 crore would also be completed soon. He said that construction work of the new degree college and ITI's building has also been over and classes would commence. 
Prominent among present occasion included Sewage Board Executive Engineer GP Singh, SDO Supinder Singh, EO Amarinder Singh, Amar Singh Boparai, OSD Jagpreet Singh Buttar and others.