MP Arora praises Jainism & applauds JL Oswal & Family on philanthropic work
A religious function namely `Anjanshalaka Pratishtha Mahotsav' is being held at Shri Mani Laxmi Dham Jain Tirth, Doraha.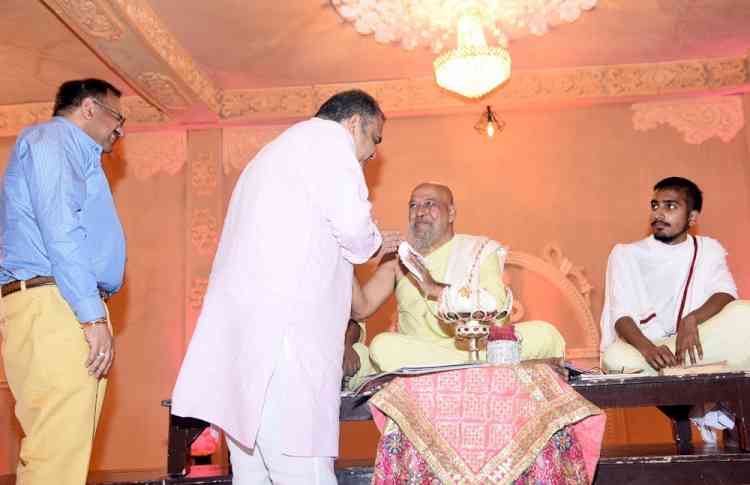 Ludhiana, June 2, 2023: A religious function namely `Anjanshalaka Pratishtha Mahotsav' is being held at Shri Mani Laxmi Dham Jain Tirth, Doraha.
The event is being held under the patronage of Shri Atam-Vallabh Jain Sarvmangal Trust Ludhiana, in which many religious saints are present.
A musical stage show on religious themes is being presented on the occasion. The story is based on life of Maharaja Ashvasen who was living along with his wife Maharani Vamadevi in 9 storeyed divine palace at Varanasi. One day Kuber started showering crores of jewels in his courtyard and continued this practice every day. After 6 months, Vama Devi saw 16 dreams in the night of Vaishakh Vadi Duj indicating the incarnation of the Tirthankar child into her holy womb.
The interesting thing here was that the role of Maharaja Ashvasen is being played by renowned industrialist Jawahar Lal Oswal and the role of Maharani Vamadevi was played by Abhilash Oswal. This religious play continued for about two hours and the audience was kept completely mesmerized. Both Jawahar Lal Oswal and his wife Abhilash Oswal were dressed up as Maharaja Ashvasen and Maharani Vamadevi, respectively. 
AAP MP (Rajya Sabha) from Ludhiana Sanjeev Arora was among those who witnessed this wonderful stage show. Those present among the audience included the leading industrialists Kamal Oswal, Daman Oswal and Dinesh Oswal.  Reacting to this show, Arora highly appreciated the artistic skills of the Oswal couple. He said it was really a wonderful moment for him to watch this stage show based on the religious theme. This musical religious programme was held under the supervision and guidance of a group of artists from Gujarat.
Arora praised Jainism for its following of Non-Violences, Truthfulness, Simplicity, Charity & Compassion. He appreciated JL Oswal family for philanthropy work being done and how personally being involved in spreading message regarding preaching of Jain Gurus & spreading knowledge on Jain History, 
Arora took blessings from the Jain Saints including Padam Pujya Acharya Bhagwant Shrimad Vijay Nityanand Surishvar present there. He was honored with prasad and a chain on the occasion.
SSP Khanna Avneet Kundal and SP (Detective) Dr Pragya Jain were also present on the occasion.
The religious programme was started on May 30, and it will conclude on June 6.
Many men, women and children from the Jain Samaj attended the event with full enthusiasm.