MP and DC dedicate Ludhiana's first online CNG Station of Think Gas in Raikot
Describe it as a stepping stone towards making city clean, green and pollution free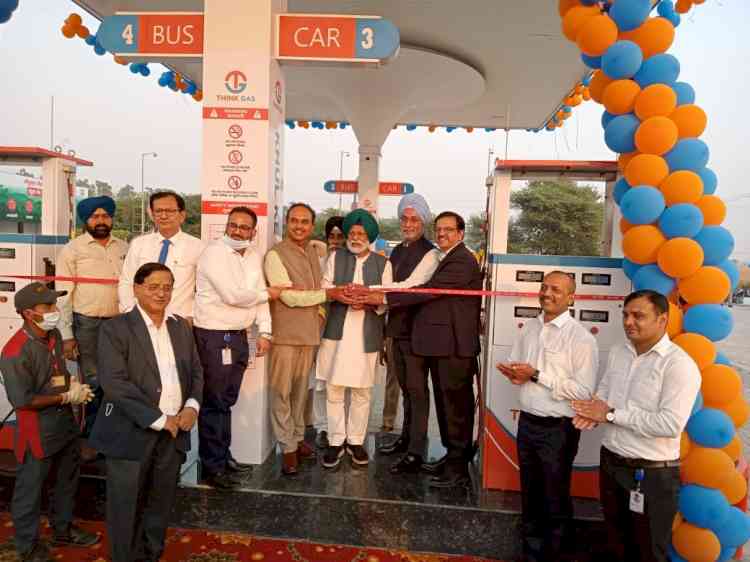 Raikot (Ludhiana), October 29, 2021: In a major environment friendly initiative, Fatehgarh Sahib Member of Parliament (MP) Dr Amar Singh and Deputy Commissioner Varinder Kumar Sharma on Friday dedicated the first online CNG station of Think Gas where CNG would be available to the consumers at Rs 67 per kilogram, in Raikot town.
Describing it as Red letter day, MP and Deputy Commissioner said that it was a step towards ensuring cheap and efficient fuel to the consumers. 
They said that this would go a long way in checking the environment pollution on one hand and ensuring availability of this cheap and future fuel to the consumers on the other. 
They said that people of Raikot constituency would be able to get the CNG into their houses directly through pipeline. 
They added that this was beginning of long term plan to make the Ludhiana clean, green and pollution free and said that more such pumps of Think gas would be set up around the district. 
They told that 26 such camps are already running successfully in Punjab. 
Assuring fulsome support and cooperation to the company for this consumer friendly initiative, they said that it was economical, safe and convenient fuel for the people. 
They told that the introduction of this mode of fuel would benefit the people by providing them fuel in smooth and hassle free manner on one hand besides paving way for the introduction of environment friendly fuel that would help in making Ludhiana clean, green and pollution free. 
They said that this was the need of the hour for saving the environment of the district and facilitating the residents in a big way.
They also planted saplings during the event. 
Prominent among present on the occasion included SDM Gurbir Singh Kohli, Think Gas CEO Hardip Singh Rai, Sandeep Trehan, Manmohan Singh, Brajesh Singh, Johny Sharma and others.