MoS Finance Anurag Singh Thakur gets 'Champions of Change 2019' award for social welfare
Anurag Thakur is only Union Minister to get award this year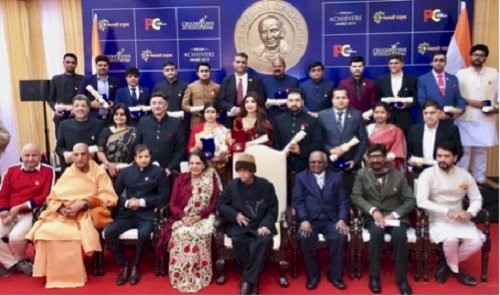 Dharamshala: Minister of State for Finance and Corporate Affairs Anurag Singh Thakur has been awarded with 'Champions of Change 2019' award by Former President of India Pranab Mujherjee at an event organized at 10 Rajaji Marg and later followed by Vigyan Bhawan, New Delhi on 20 January 2020. 
 
According to the press release issued here today, Anurag Singh Thakur has been bestowed with this award for his significant contribution towards social welfare, particularly in the field of Healthcare, Education and Sports. He is the only Union Minister in Narendra Modi Government to receive the award this year. 
 
The nominations were evaluated and shortlisted by an eminent jury headed by Justice K.G. Balakrishnan (Former Justice of India & Former Chairman NHRC) and Justice Gyan Sudha Misra (Former Judge Supreme Court of India). Among the set of awardees selected for this honor across India included Chief Minister of Uttarakhand, Chief Minister of Jharkhand, Deputy Chief Minister of Delhi, Acharya Balkrishna, Chairman Patanjali Ayuved, Actor Shilpa Shetty and many other prominent personalities. Among the Union Minister, Government of India, Anurag Singh Thakur was the only Union Minister to receive the award this year. 
 
Anurag Singh Thakur has been actively working in his Parliamentary Constituency (Hamirpur in HP) of pertinent issues of Healthcare, Education, Sports and Women Empowerment and in this space has created models that are being replicated across the country. 
 
Anurag Singh Thakur called it a 'Happy Moment' for Hamirpur Parliamentary. He said, "It is a happy moment not only for me but for Hamirpur Parliamentary and the entire State of Himachal Pradesh since the hardwork of everyone engaged with the initiatives has been recognized. For the success of any initiative, people's support, engagement and cooperation is the key and thus I dedicate this award to each and every individual of my Parliamentary. All the social initiatives undertaken in my Parliamentary have been initiated keeping in mind the principle of Antyodaya."
 
He added, "I firmly believe that access to quality healthcare and education is the right of every individual, regardless of the economical background. Apart from this Sports helps in shaping personalities and building character of an individual and thus promotion of sports as a culture is a key significance."
 
The 'Champions of Change' Awards is organized by the Interactive Forum on Indian Economy (IFIE), which is Government of India recognized Non-For-Profit Company and its prestigious new magazine Power Corridors and Panchayati Times.