More than a hundred home chefs now associated with Homefoodi
Aims to start across top 10 cities of India in next 2 years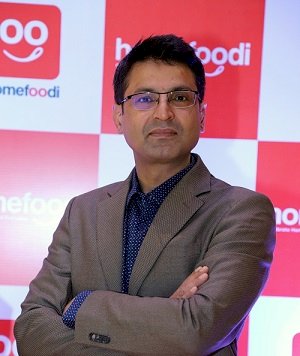 Narendra Singh Dahiya, Founder and Director, Homefoodi .
New Delhi: Homefoodi, a Noida based e-commerce start-up known to provide authentic home-made food made by home chefs to their customers is currently having a successful run. With a significant increase in the number of Home chefs associated with Homefoodi, it has now touched the 150 mark.
Homefoodi is India's 1st Mobile App for Authentic home-made food made by Home-Chefs in their Homes. Now associated with over 150 Home Chefs in Noida, the Mobile App offers access to the widest range of Home Food and Bakery products prepared by home chefs. 
During the inception of Homefoodi, the company initiated a research across the Metro cities and met up with over 2000 respondents (Homemakers & Consumers) which indicated that over 10% of the Homemakers would be keen to start up a Home Kitchen if they had a platform that could address their challenges and help them do business in a professional way. 
 
The consumer research further established the love for Home food with over 90% of the respondents preferring Home food over outside eating. As per the research, 97% of consumers rightly Trust Home food to be Healthy & Hygienic. Homefoodi thus joined the two insights to create a two-fold Mission of "Ghar-Ghar Start-Up" & "Healthy Nation". 
 
Homefoodi is a venture started by Narendra Dahiya and Dr. Mona Dahiya with a vision to help "Ghar Ki Lakshmi" to transform into "Bharat Ki Lakshmi", thus empowering women by giving them a platform to work and earn from home. 
 
Speaking at the association Narendra Singh Dahiya, Founder and Director, Homefoodi comments, "It gives us immense pride and joy to be associated with over 150 Home-chefs. Homefoodi is an initiative to empower every Home Maker to contribute towards Nation Building. We are thrilled that these Home Chefs can now create their own unique identity and reach out to countless customers at the comfort of their Homes"
 
Having a concrete expansion plan, Homefoodi plans to be present across the top 10 cities of India with over 1 lakh Home Chefs on their platform within the next 2 years. Starting from the grass-root level Homefoodi is climbing up its own way to triumph aiming to create India's biggest self-employment chain by creating a Culture of Home Chefs through a mobile platform to earn from home being a Home Chef.
 
"We are humbled with the encouraging response from consumers and we will end our 1st Year of Operations with over 1 Lakh Consumers. We currently have over 150 Home Chefs in Noida with us and have already received over 500 New Registrations from Home Chefs in Noida alone. Every Day we are getting over 20 new submissions" he further added.