Mohd Gulab meets Cabinet Minister Sadhu Singh Dharamsot to revive discontinued loan schemes for minorities
The Minister assured Gulab to look into the issue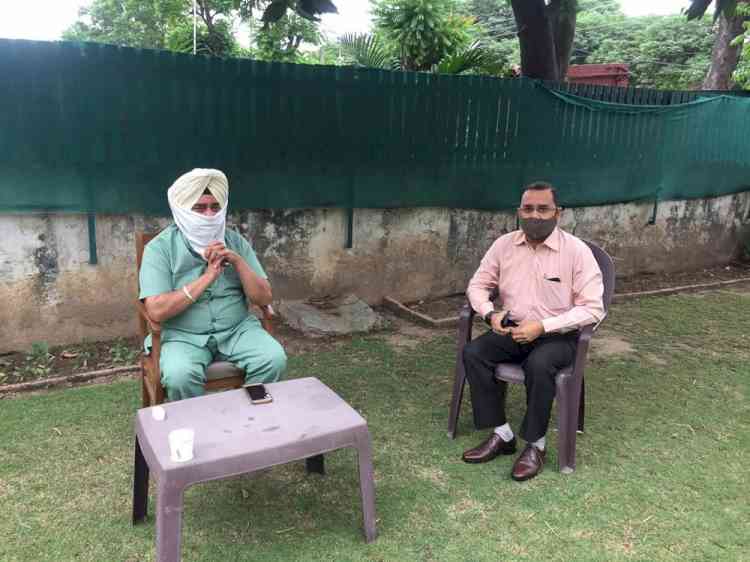 Ludhiana: To revive the discontinued loan schemes for various minorities including Sikhs, Christians, Muslims, Buddhists, Parsis and Jains and others, Punjab Backward Classes Land Development And Finance Corporation (Backfinco) vice-chairman Mohd Gulab on Thursday met Social Justice, Empowerment and Minorities Minister Sadhu Singh Dharamsot.
Mohd Gulab said that earlier the state government used to provide financial assistance to the minorities by giving them loans for starting small businesses. He told the minister that Backfinco was established in 1976 to uplift the economic condition of the backward classes and economically weaker sections of the state.  
Gulab told that following National Backward Classes Finance and Development Corporation (NBCFDC) and the National Minority Finance and Development Corporation (NMDFC) came into existence, Backfinco was appointed a nodal agency to implement the self-employment schemes of both corporations in the state. 
He said that under these schemes, loans were provided to the target group at an interest rate of only 6% per annum. The age limit for the target group was 18 to 55 years and the annual income was less than Rs. 300,000 for rural and urban areas, he said and added that 50% of loans were given to the applicants whose annual family income was up to Rs. 1, 50,000. 
He also informed that loans were provided by the corporations under the Education Loan Scheme for the backward classes. 
Gulab said that since 2017, NMDFC had discontinued the term loan scheme for Sikhs, Muslims, Christians, Buddhists, Parsis and Jains which deprived deprive the deserving youths of these communities to avail the benefits of these schemes. He urged the cabinet minister that the people of these communities are an integral part of society and the state government should restart all these welfare loan schemes immediately. 
On the occasion, the Minister assured Gulab to look into the issue and directed the officials to immediately work on the modalities for restarting the schemes.