Mohandai Oswal Hospital organises covid awareness bike rally 
45 bikers from MOH, including 12 female staff members of MOH participated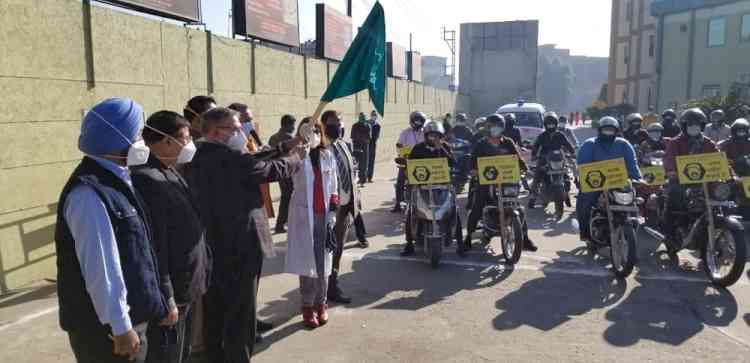 Ludhiana: A Covid awareness bike rally was flagged off by SDM East Ludhiana, Dr Baljinder Singh Dhillon from Mohandai Oswal Hospital, Ludhiana. 45 bikers from MOH, including 12 female staff members of MOH participated in this 10-kilometer rally. The rally stopped at 4 places on way and educated the public about importance of wearing masks, washing hands and maintaining the 6 feet distance to avoid getting infected with Covid. The rally was led by Dr Geeti Puri, Dr Pradeep Kapoor and Dr Hardeep Singh. It went to Sherpur chowk, Giaspura, Samrala Chowk, Moti Nagar and reached back at MOH.

In his flagging off speech, Dr Baljinder Singh Dhillon reiterated the need of wearing masks, keeping social distancing and frequent hand wash. He said that the administration is fully involved in spreading awareness about the second wave of Covid and appreciated the efforts of Mohandai Oswal Hospital. He assured of full backing for fight against Covid.  He said that though everyone knows about the precautionary measures but still whole of population is not following these and this is the reason for spread of the disease. 

Welcoming the chief guest, Dr Sanjeev K Uppal, CEO of the MOH said that Mask is the vaccine till vaccine comes. He cautioned public about the possible spread of the disease.  The treatment of the disease is not easy and it involves lot of medical resources and the patient has to spend a lot of money and even faces late complications. Wearing a 5 rupee mask can prevent ail this, he added. Mr Jawahar Lal Oswal, Chairman, conveyed his best wishes for the project and reiterated the resolve of MOH to provide all the possible treatment for Covid patients with full medical backup. Mr Yogendra Awadhiya, Head operations at MOH appealed to general public to take all precautions. he said that it is the small effort of wearing mask by the people of Ludhiana which can save the city of becoming the Covid hot spot.

A specially designed mask was released by Dr Baljinder Singh Dhillon on this occasion. The bikers team distributed 500 masks at all the four stopovers free of cost. The team also had small meetings on way with general public and answered their questions about Covid and prevention and treatment.