Mobile testing vans to conduct covid19 tests in Ludhiana city
Vans flagged off by Mayor, DC, Police Commissioner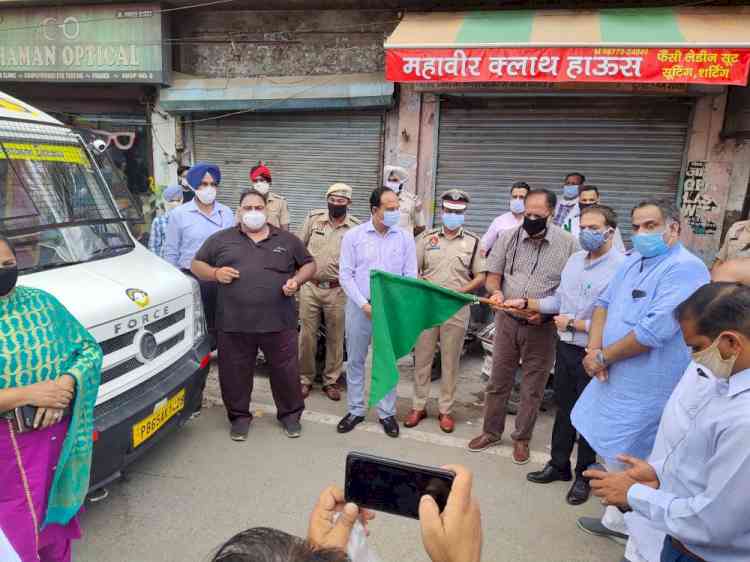 Ludhiana: To increase corona virus testing and to create awareness about the disease, mobile testing vans were flagged off in Ludhiana on Wednesday. the mobile testing vans will conduct corona Virus tests at the door steps of people. Mobile testing vans were flagged off from Daresi ground by Mayor Balkar Singh Sandhu, Deputy Commissioner Varinder Kumar Sharma and Police Commissioner Rakesh Kumar Agarwal.

Mayor Balkar Singh Sandhu and DC Varinder Kumar Sharma informed that initially two testing vans were introduced in Ludhiana and later the number of vans will be increased. the medical team in vans will conduct Corona virus tests in different areas and also create awareness among the people about the disease. the teams will motivate the people to undergo tests which are free of cost. They added that the teams from Christian medical College and Dayanand Medical College will provide services in mobile vans. DC Varinder Sharma appealed the people to take maximum benefit of mobile vans.

Police Commissioner Rakesh Aggarwal said that the people should cooperate with the administration and help to contain the spread of corona virus. Maximum testing is the only way to check the spread of Corona virus. Rakesh Aggarwal added that Ludhiana Police is always in service for the people.

On this occasion, ADC Sandeep Kumar, Amarjit Singh Bains and Manik Dawar son of MLA Surinder Kumar Dawar were also present.