MLA Sanjay Talwar and DC hand over ownership certificates to 35 families under Basera Scheme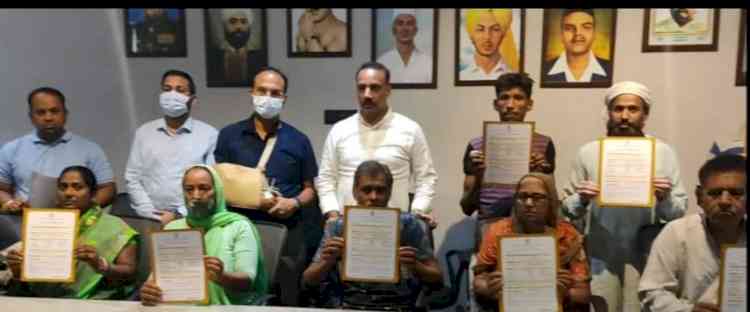 Ludhiana, September 25, 2021: Fulfilling the promise of state government to make the state slum-free, Member of Legislative Assembly (MLA) Sanjay Talwar and Deputy Commissioner Varinder Kumar Sharma on Saturday conferred property rights to 35 families living in Bhola Colony and Baba Jiwan Singh Nagar. 
Presiding over an event, MLA termed the program as a landmark step towards urban development by giving proprietary rights to every slum household occupying the state government land in a slum of any city area.
He said Punjab was the first state in the country to launch such a program that aims at transforming urban slum areas with basic civic amenities, including potable drinking water, street lighting and roads to slum dwellers.
MLA said that the survey is already underway in wards-12, 15, 16, 17 and 21 and eligible families would get the property right soon in the coming days. 
Deputy Commissioner Varinder Kumar Sharma said that under this scheme, those living in slum areas, in houses of a maximum size of 30 sq yard will be benefitted from ownership of the house.
He asked the officials to ensure that every slum dweller gets the benefit of the scheme, which will make Ludhiana slum-free and everyone would lead a comfortable life.
Prominent among present on the occasion included SDM Dr Vaneet Kumar, Kapil Mehta, Kanwaljeet Bobby and others.