MLA Kulwant Singh Sidhu inspects ongoing works to clean Sidhwan canal
Urges residents not to pollute the water body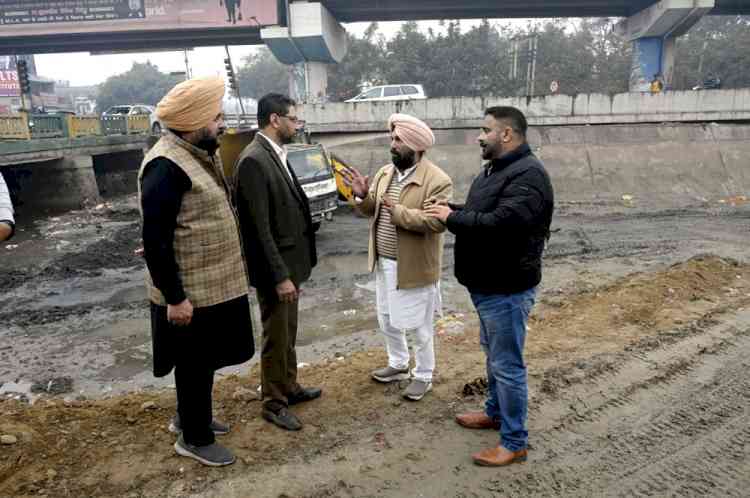 Ludhiana, January 24, 2023: Atam Nagar MLA Kulwant Singh Sidhu along with Municipal Corporation (MC) Zonal Commissioners Kulpreet Singh and Jasdev Singh Sekhon inspected the ongoing works to clean Sidhwan canal at Dugri canal bridge on Tuesday.

Directing the authorities to expedite the work to clean the canal, MLA Sidhu appealed the residents to support the authorities in keeping the canal clean. 

The civic body officials stated that even after a large portion of the canal has been cleaned by MC within the city limits, residents are still dumping waste in the canal. Civic body has been imposing hefty challans and FIRs have also been recently recommended against 55 residents who were caught dumping waste in the water body.  

MLA Sidhu stated that the National Green Tribunal (NGT) has also taken a strict note of the pollution in water bodies in the past and residents should understand that it is also their
responsibility to keep the water bodies clean. If the residents continued to dump waste in the canal, the authorities will be forced to act strictly and FIRs will also be recommended against the violators.

MLA Sidhu stated that Aam Aadmi Party (AAP) led state government is committed to clean the water bodies across the state. In that course, local bodies minister Dr Inderbir Singh Nijjar had kick started the work to clean the Sidhwan canal from BRS Nagar canal bridge on January 4. The minister also kick started the project to install chain linked iron fencing (2 meter height) along the 13 kms long stretch of canal within the city limits on January 4. The aim of the project is to stop the residents from dumping waste into the canal.
Zonal Commissioners Jasdev Sekhon and Kulpreet Singh stated that the canal falls under the jurisdiction of the irrigation department. Amid rising concern over garbage and filth dumped in the water body, which moves through the city, MC has stepped up to clean the canal on the directions of MC Commissioner Dr Shena Aggarwal. The stretch of canal from BRS Nagar canal bridge to Dugri canal bridge has been cleaned. The flow of water has been stopped in the canal for now, but it is expected that the water will be released in the coming few days. The remaining portion of the canal will be cleaned in the next phase.