MLA Dawar launches beautification and renovation of Mini Rose Garden at cost of Rs 3.48 crore
Says government is committed to usher new era of the development in Ludhiana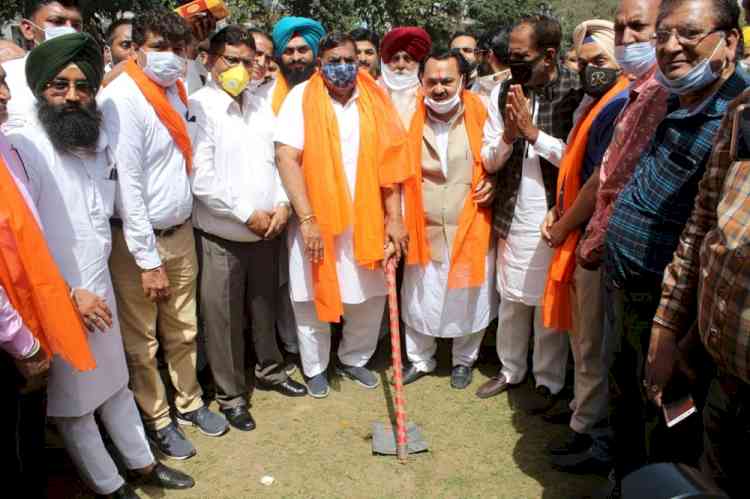 Ludhiana: Member of Legislative Assembly (MLA) from Ludhiana Central Surinder Dawar on Wednesday kick-started ambitious beautification and renovation of Mini Rose Garden at the cost of Rs 3.48 crore. 
The project is being carried out under Smart City and work would be over within a year. 
Accompanied by Mayor Balkar Singh Sandhu, Senior Deputy Mayor Sunder Sham Malhotra, MC Commissioner Pradeep Sabharwal, MLA said that under  Refurbishment and Beautification, the works of Softscaping, plantation, and grass, musical fountain, cafeteria, Amphitheatre, Fountains, Badminton Court, Pergolas, Canopy, Kids Play, Open Gym, and other areas would be carried there and the project would be finished in next 12-months at the cost of Rs 3.48 crore.
He added that the Punjab Government led by Chief Minister Capt Amarinder Singh is making concerted efforts for the all-around development of Ludhiana and this is one of key projects,  which will pave the way for the transformation of urban living here.
He directed the officials to give top-most priority in timely completion of these projects so that the people were benefitted.
Dawar added that the following the completion of work, the residents would have wonderful, beautiful place for morning-evening walk and amusement, playing game/physical exercise in the constituency. 
MLA said that every area of his constituency would have soon world class infrastructure as several projects including covering Shivaji Nagar drain, construction of new roads, Government Senior Secondary Smart School are on the tendering stage or some are verge of completion. 

He said that he is always available for the people and they can contact him at any time. 
Prominent among present occasion included MCs Gurdeep Neetu, Pinki Bansal, Bobby Malhotra and others.