Mission Tandarust Punjab- Joint CP starts plantation drive in Police Lines
Says the youth must adopt one sapling and ensure proper upkeep of saplings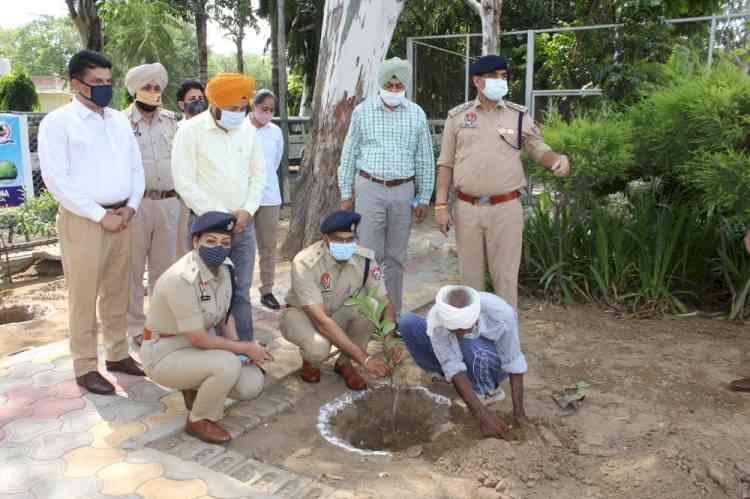 Ludhiana: Joint Commissioner of Police (JCP) J. Elanchezhian on Wednesday started a plantation drive in the police lines under Mission Tandarust Punjab.
Accompanied by Additional Deputy Commissioner of Police-1 Dr. Pragya Jain, Assistant Commissioner (Under Trainee) Dr. Harjinder Singh Bedi, J. Elanchezhian said it is high time for the people to come forward and join the hands with the administration for planting saplings to enhance the green cover in the Ludhiana. 
He said that each person must protect the environment for giving a better future to the coming generations by planting saplings. He added there is a regular increase in the levels of air, water, and soil pollution and the trees can play a crucial role in conserving our environment by reducing pollutants.
Assistant Commissioner (Under Trainee) Dr. Harjinder Singh Bedi told that the aim of mission Tandarust Punjab is to ensure clean air, water and increase the forest cover in the state for which the Punjab government is deeply committed and it would leave no stone unturned to achieve the goal. He said that even individuals can receive the saplings free of cost from the forest department through the i-Hariyali app
He also said that the youth must adopt one sapling and ensure proper upkeep of saplings. 
Prominent among present on the occasion included Assistant Commissioner of Police Jang Bahadur District Forest Officer Harbhajan Singh and others.