Mission Fateh: Youth Services department launches drive against Covid-19 rumours
Chairman Punjab Youth Development Board releases poster to kick-off week-long drive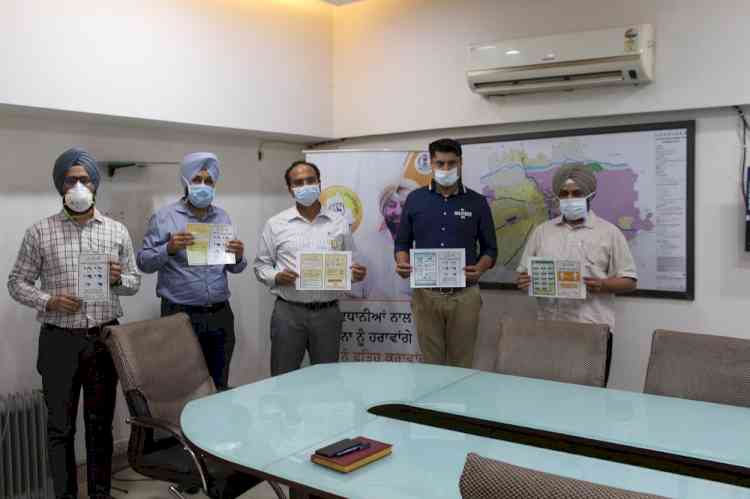 Ludhiana: On the directions of the Chief Minister Punjab Captain Amarinder Singh, Youth Services department on Tuesday launched drive under Mission Fateh to create awareness against rumours being spread about Covid-19.

Chairman Punjab Youth Development Board Sukhwinder Singh Bindra along with Deputy Commissioner Ludhiana Varinder Kumar Sharma launched the week-long drive by releasing awareness posters at DC Office here. Assistant Director Youth Services Department Ludhiana Devinder Singh Lotey was also present on the occasion.

Bindra said that some mischievous miscreants were spreading false rumours about Covid-19 among the residents of the state, which was taken very seriously by the Chief Minister, who under Mission Fateh asked all the Deputy Commissioners to make people aware about false rumours with the help of Youth Services Departments.

He said that under this drive, being carried out from September 14 to September 20 youth from various Youth Clubs, NSS Volunteers and Red Ribbon Clubs will organise different activities including Zoom meetings, awareness on social media, slogan writing, mehndi and poster making competitions to spread awareness against rumours. 

Bindra said that besides these activities youth club volunteers will go door-to-door in villages to spread awareness among the people. He further said that while the police administration of the state is working diligently for the health of the people, it is also the duty of the people to cooperate with the police and inform them about such mischievous elements. 

He appealed to the residents of the state to be vigilant against such mischievous people and to take precautionary measures against Covid-19 and cooperate in keeping their family and neighbourhood safe.