Mission Fateh: Registrar cooperative societies review arrangements made regarding covid-19
Directs district administration to identify suspected patients and intensify sampling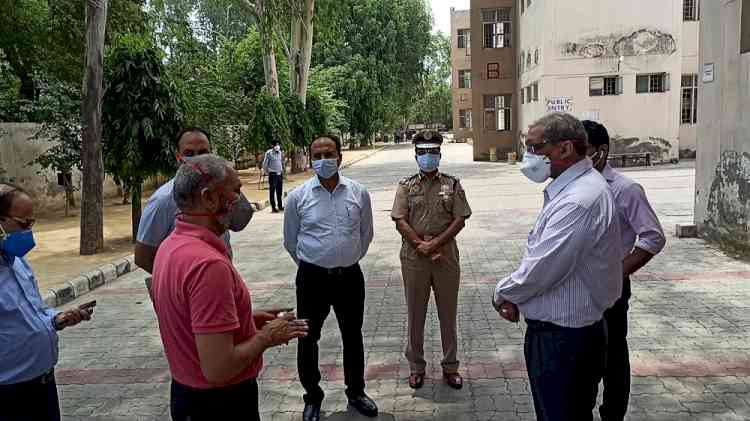 Ludhiana: Under the Mission Fateh of the Punjab government and to ensure that effective arrangements have been made regarding COVID 19, Registrar, Cooperative Societies Punjab, Mr Vikas Garg today visited Ludhiana city. He also held a meeting with District and Police Administration as well as all stakeholders at Circuit House, here today and issued necessary instructions.
    While issuing directions in the meeting, Mr Garg said that the Punjab government is committed to ensure the well being of all persons living in Punjab and the situation is brought back to normal. He said that is why, Mission Fateh has been launched in the state and it would be made successful with the active participation of residents. He appealed to the administrative officials to educate masses at ground level regarding COVID 19. Mr Garg said that strict action should be taken against the persons who fail to follow the instructions issued by the Punjab government and Health Department in this regard.
    He said that the need of the hour is that suspected patients should be identified at the earliest, and intensive sampling should be carried out. He directed the health department officials to carry out maximum sampling of the suspected patients and they should keep a close watch on incoming passengers at Railway Stations and Bus Stands. Similarly, special emphasis should be given towards hotspots and people staying in containment and micro containment zones should be provided ration or cooked food.
    Deputy Commissioner Mr Varinder Sharma said that three containment zones and three micro containment zones have been declared in district Ludhiana. He said that services such as ration etc are being provided to the people staying there on priority basis. Mr Sharma informed that as per the directions of the health department, a district level committee to identify containment and micro containment zones have been formulated in the district. He said that containment and micro containment zones are declared on the basis of recommendation of this committee.
    Later, Mr Garg visited the Covid Care Isolation Centre set up at Meritorious School, here and inspected the arrangements. The meeting was also attended by Commissioner of Police Mr Rakesh Kumar Agrawal, MC Commissioner Mr Pardeep Kumar Sabharwal, besides several others.