Mission Fateh: Ludhiana Forest Division clears illegal occupation from 25 acres of land
Illegal occupation cleared at Village Mand-Jharaudi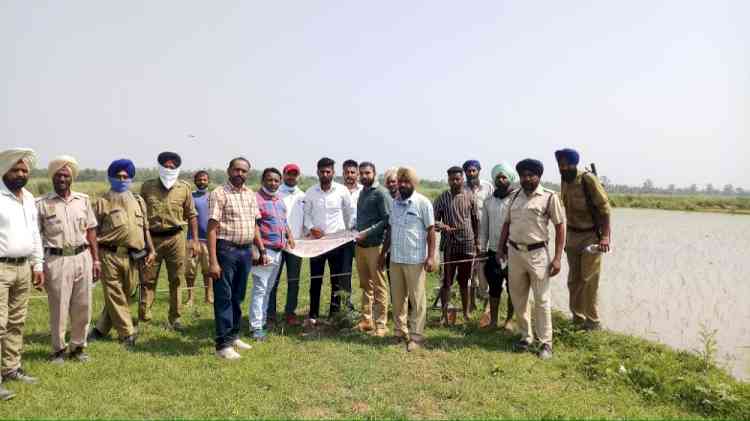 Samrala (Ludhiana): In a bid to free illegal occupation and encroachments from government lands and to help save our environment, the Punjab Forests Department has been making dedicated efforts to remove encroachments and illegal occupation from its lands. Today, 25 acres more land located in village Mand-Jharaudi was cleared by the officials of Samrala Range of illegal occupation with the help of police. This land would now be developed into "Forest area" in a systematic manner so that it adds to saving our environment.
    It is pertinent to mention that under the Ludhiana division, around 704 acres of land was under illegal occupation, which has now been vacated with the efforts of Divisional Forest Officer Ludhiana and "forest area" is now being developed there.
    While providing information, Mr Charanjit Singh, Divisional Forest Officer, Ludhiana stated that under the Mission Fateh of the Punjab government, 25 acres of land located at village Mand-Jharaudi has been cleared of illegal occupation by the department. He informed that this land was under illegal occupation for a long time and with the efforts of Forests Minister Mr Sadhu Singh Dharamsot and Deputy Commissioner Mr Varinder Sharma, this land would now be developed into "Forest Area". He informed that work of planting tree saplings have been started in this particular land from today itself.
    He further stated that some persons had encroached upon prime forest lands under Ludhiana Division for quiet some time. While acting on the directions of the state government, several efforts were made to get this land vacated from illegal occupation and 704 acres of prime forest land is now free from any kind of encroachment. Now, forest area is being developed on this land in a systematic manner.
    He informed that the lands vacated from illegal occupation include 175 acres in Haider Nagar Jungle under Mattewara Range, 79 acre in Hadiwal jungle, 19 acre in Gopalpur Bulendwal Jungle, and 2 acre in Salempur jungle area. Similarly, in Jagraon range, 147 acre in Kot Umra Jungle area, 80 acre in Gorsian Khan Mohammad jungle, 70 acre in For Majri jungle area under Samrala range and 35 acre at village Mand-Uddowal and Ladhowal.