Mission Fateh: Four trains carrying migrants leave for different states today
BACKFINCO Vice Chairman visits Guru Nanak Stadium and interacts with migrants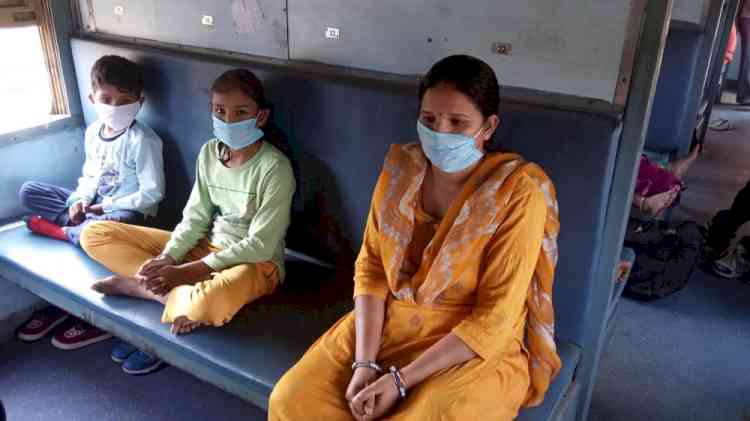 Ludhiana: The process of sending migrants to their home states continues as four more trains departed for different states today. Mohd Gulab, Vice Chairman, Punjab Backward Classes Land Development and Finance Corporation, also visited the Guru Nanak Stadium, where he interacted with the migrants leaving for their home states. He was also accompanied by Senior Congress leader Mr Ashwani Sharma.
It is pertinent to mention that under Mission Fateh of the Punjab government, efforts are being made to provide facilities to people from all sections of the society.
He informed that the work of sending migrants to their home states is going on smoothly and till date, a total of 203 trains carrying around 1600 migrants have already departed for different states such as Uttar Pradesh, Bihar, Jharkhand etc. He also appealed to the migrants departing through trains to return to Punjab as almost all factories have started their operations. He said that the migrant workers are the backbone of Ludhiana's economy.
He informed that the first train carrying migrants had departed from Jalandhar on May 5, 2020, and till date, around 3.5 lakh migrants have departed for their respective states. He informed that the trains are departing from Ludhiana, Jalandhar, Patiala, Ajitgarh (Mohali), Amritsar, Ferozepur, Sirhand and Bathinda and each train carries around 1600 migrants. He said that around 8.5 lakh migrants had applied for travelling to their home states from district Ludhiana alone. Till date, the Punjab government has sent trains to states such as Uttar Pradesh, Bihar, Madhya Pradesh, Manipur, Andhra Pradesh, Jharkhand and Chhattisgarh.
He further informed that the Punjab government is paying for travel, food, water and pickup service from designated points. He informed that the medical screening of all passengers is being done after which, they are issued medical certificates by the District Administration.
The trains that departed today were for Katihar, Khagria, Samastipur, Muzaffarpur, Gorakhpur, Gonda, Moradabad, Saharanpur, Bhagalpur, Bareilly, Hardoi, Lucknow, Rai Bareilly, Ara, Patna, Gaya, Jamui, New Kooch Bihar, Asansol, Durgapur, Bardhman, Rampurhat, New Farakka, Malda Town, Aluabari, New Jalpaiguri, Chapra, Balia, Pratapgarh, Hajipur, Begusarai and Naugachia.
He said that migrants are asked to gather at pickup points, from where they are brought to Guru Nanak Stadium, here, by buses for proper medical screening. He said that on the completion of medical screening, tickets are handed over to the migrants and on way to the railway station (by foot), they are handed over food and a two litre bottle of mineral water. He said that people who are medically fit, only they are being allowed to travel. He said that during travel, the passengers are made to follow social distancing strictly.