Mercedes Benz India kick starts new decade towards sustainable luxury
Launches its new product and technology brand in India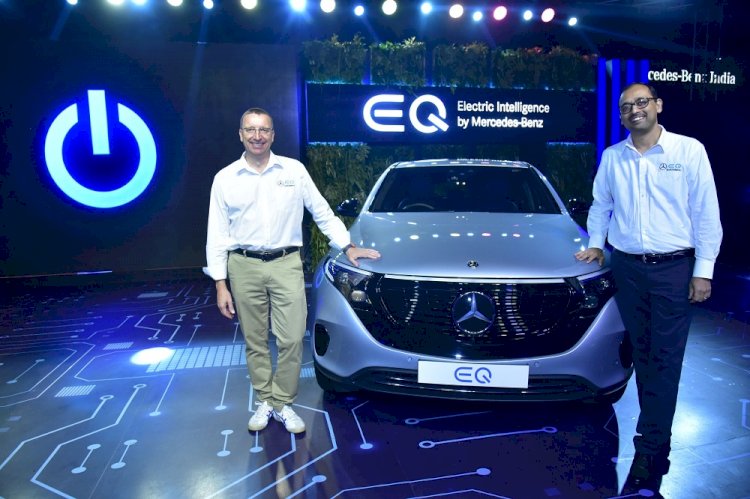 Chandigarh: Mercedes-Benz the country's largest luxury car manufacturer electrified the entire automotive sector in India with the launch of its product & technology brand 'EQ' in India. Brand EQ is a product and technology ecosystem that aims to shape the future of mobility, which derives from the Mercedes brand values of 'Emotion' and 'Intelligence.' 'EQ' is the first dedicated electro mobility brand in the luxury segment and will launch its first product 'EQC', in April 2020.
Mercedes-Benz is establishing 'Sustainable Luxury' as the future roadmap in India and the launch of the brand 'EQ" will be an important pillar in that roadmap. The brand 'EQ' was launched in India by Martin Schwenk, MD & CEO, Mercedes-Benz India and Santosh Iyer, Vice-President, Sales & Marketing, Mercedes-Benz India at the company's manufacturing facility in Chakan, Pune.
Speaking on the occasion, Mr. Martin Schwenk said, "As the inventors of the automobile and pioneers of luxury mobility in India, we are launching the brand 'EQ' that will establish luxury electric motoring in India. The 'EQ' brand is a key pillar of our 'Sustainable Luxury' objective and is the first dedicated luxury electric brand in India. We felt the time was right to introduce EQ brand in India and our first product for India will be the EQC EV. We are confident that EQ will lay a strong foundation for our electric ambition in India, which will see further expansion of our green cars portfolio and also for our future."
Martin Schwenk elaborated, "With the launch of EQ we firmly announce Mercedes-Benz's arrival into the new era of electro mobility. We want the EQ brand to create an ecosystem in which electric mobility is reliable, simple and at the same time exciting. The 'EQC Edition 1886' illustrates progressive design, exciting driving dynamics and a range more than suitable for daily use. Long-term, worry-free vehicle use is the sole focus for us in launching the EQ brand in India."
Restless for Tomorrow:
"Our customers are constantly pushing the boundaries, redefining themselves and challenging their own accomplished successes. They have a spirit of restlessness and success for them is not a culmination of their journey, but the starting point for a new one. We are inspired by this spirit of our customers and identify ourselves with this state of mind and 'Restless for Tomorrow' will be the mantra for Mercedes-Benz India for 2020". stated Martin Schwenk explaining the brand mantra of Mercedes-Benz India for 2020.