Member RERA Punjab Jagdish Khushdil's book `My Experiment With RERA' unveiled
Event was organised under banner of CREDAI Punjab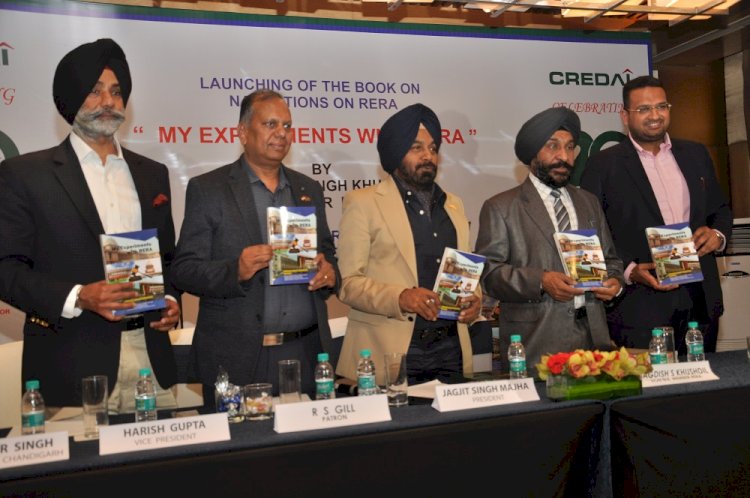 Author of book 'My Experiment with RERA' Jagdish Singh Khushdil (4th from left) and Jagjit Singh Majha, President, CREDAI(3rd from left) along with other senior CREDAI Punjab office bearers unveiling the book.


Chandigarh: To promote the real estate sector by demystifying real estate laws and to make people aware about Real Estate Regulatory Authority(RERA) and its functioning - a book titled "My Experiment With Rera" by S. Jagdish Singh Khushdil, Member of (RERA) Punjab, was  unveiled at Chandigarh. The event was organized by Confederation of Real Estate Developers' Association of India (CREDAI), and also saw a discussion on RERA & a very important topic - 'Realty Roadmap 2020'. Those who participated in the book launch and discussions included the author Jagdish S Khushdil, Jagjit Singh Majha, President, CREDAI, Punjab, Harish Gupta, Vice President, CREDAI, Punjab, Arun Jindal, General Secretary, CREDAI, Punjab, Umang Jindal, Joint Secretary, CREDAI, Punjab and Tarninder Singh, President, New Chandigarh, CREDAI.
The idea behind the event was to facilitate the growth and promotion of a healthy, transparent, efficient and competitive real estate sector. RERA is the authority which is entrusted to enforce Real Estate (Regulation & Development Act 2016).
The author, S. Jagdish Khushdil has a vast 35 years of experience as a legal luminary in diverse capacities. He is a Former District & Sessions Judge, Former Adjudicating Officer, RERA and also Former President, District Consumer Forums.
While addressing the gathering, Khushdil said, "The main reason behind writing this book is to make people more aware about the laws connected with the real estate sector. I believe that a large segment of people are still not aware about these and the era which has been ushered in after formation of RERA."
He added, "As it's a difficult and dry subject, so very few people know about it. To make the subject interesting, I have simplified details about RERA and associated acts in my book. I have also mentioned Consumer Act, local laws like PAPRA, Town & Country Act in a simplified way, which is easy to comprehend for even the layman."
During the occasion, Jagjit Singh Majha, President of CREDAI, Punjab congratulated Khushdil for his book and said, "We believe that real estate sector will be promoted through the book. Through this unique literary initiative people will become more aware of laws and RERA which in turn will bring greater transparency in the real estate business. The net result will be that consumer confidence in the system will get a boost. The higher awareness  among key stake holders will bring in accountability."
Some interesting information nuggets which are lesser known to people in general are part of the book. The author has elaborated in the book that promoters can also file a complaint with RERA against a consumer if the latter indulged in unfair and illegal practice and not just vice versa which is the established belief.
The book will do yeoman's service in bringing RERA and its objectives closer to all stakeholders. It is also clarified in the book that police has no power to take cognizance of offences in real estate sector and even if a consumer wants to approach a civil court there is written permission from RERA which is required. So now RERA has become the sole body that adjudicates and resolves conflict in the sector.
The book also explains how RERA will gradually sound the death knell for unauthorized colonies which have been erected in violation of the law.
Some experts spoke about how CREDAI which has 20,000 real estate developers as its members spread across 21 states has been instrumental in formation of RERA. Experts like S. Jagjit Majha, President, CREDAI dwelled on the importance of the real estate sector to India's economy. Majha said, "The real estate industry provides employment to over 40 million people and work to 269 different industries. What's more, real estate  accounts for 8 per cent of the country's GDP which is slated to touch 13 per cent by 2025. These figures have been revealed by National Productivity Council. RERA is a boon for this industry as it will set the bar for quality and even make the industry completely organized."
The book is a ready-reckoner for all stake holders  in the real estate industry be they real estate developers, agents, consultants  and end users or consumers. The book is available in paper-back at Shriram Law House ,Sec 17,Chandigarh and can also be ordered on Amazon.