Member of Chhath Pujan Samiti Prabhunath Shahi: Celebrate Chatth Pooja by observing all COVID 19 guidelines
As per the Hindu tradition 'Chhath Puja' a folk festival celebrated 6 days after Diwali on 'sukhla paksha sasthi' of Kartik month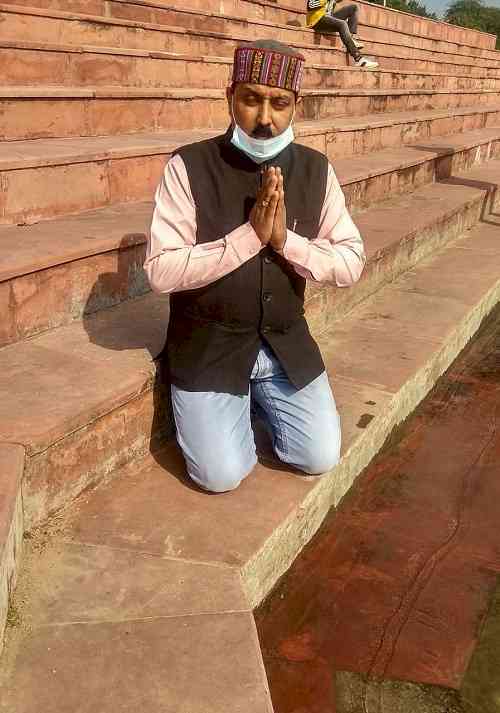 Prabhunath Shahi, Secretary, Chatth Poojan Samiti.
Chandigarh: Former Secretary of Purvanchal Association and member of Chhath Pujan Samiti offered prayers at Sector 42 lake, here to Surya Dev (Sun God) , on the start of Chatth Pooja  which kicked off on November 18 and will be on till November 21. 

During the occasion, Prabhunath Shahi said that his family has been celebrating Chhath Puja festival in Chandigarh for the last 20 years with fervor. But this year in view of ongoing pandemic they will observe the festival at home, following the administration instructions.

Shahi also urged to the 'Chhath Vratis' to observe the festival at their homes and instructed them to adhere the social distancing norms and wear masks, in order to keep the virus at bay.

As per the Hindu tradition 'Chhath Puja' a folk festival celebrated 6 days after Diwali on 'sukhla paksha sasthi' of Kartik month.
The festival is observed for the well-being  and happiness of the family.

Shahi told Chhath festival begins with the parvaitin (the main worshipper who observes fast) cooks the prasad and serve it as a bhog to the deity in the afternoon. On the second day Chhath Puja is known as Kharana and the parvaitin cooks roti/poori ,rice kheer, and serves it as a bhog to the deity.

The third day is known as Sandhya Arghya (Shashthi) on this day devotees perform the main ritual and offer Arghya ( water offering) to the setting sun and on the concluding day  Dusri Arghya is given to the rising sun and it is known as Usha Arghya, which marks the completion of Chhath Puja festival.

Shahi extended heartfelt greetings to the people and prayed for the welfare of the world in times of the pandemic.