Melodramatic Trailer of comical family drama film Kanjoos Majnu Kharchili Laila
Movie releasing on 13th January 2023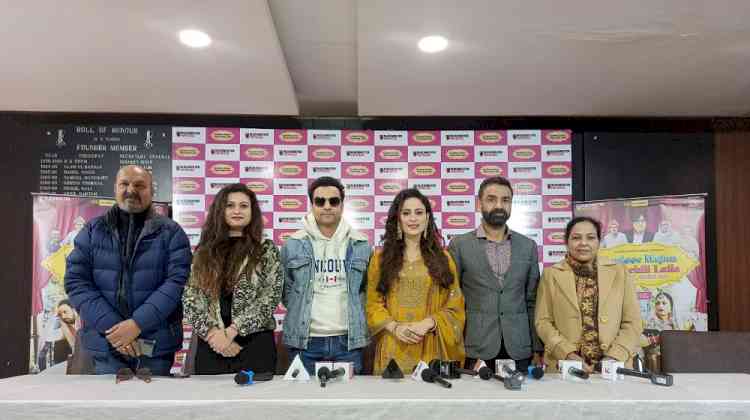 Know how did Kharcheeli Laila fall in love with Kanjoos Majnu? The trailer of the hilarious family film Kanjoos Majnu, Kharcheeli Laila is released and grabs the attention of the audience with its uniqueness. A Blockbuster Moviesss production, produced by Gurmeet Singh and Bharathi Reddy, starring the talented comedian Rajiv Thakur and gorgeous Shehnaz Sehar in the lead roles and directed by Avtar Singh is releasing on 13th January 2023.

The story of the movie addresses an issue that most households certainly can't handle while also packing some much-needed laugh-out-loud moments. Kharchili Shehnaaz Sehar falls in love with Rajiv Thakur, a big-time "Kanjoos," and eventually marries her, only to discover that both her devoted husband and his family are also huge "Kanjoos." The trick she pulls on her in-laws, however, will be the twist that breaks the awkward stillness in the crowded theatres.

The combination of three comedic elements, comedy-comedy-comedy in Kanjoos Majnu Kharchili Laila ensures that the audience will laugh themselves sick. Along with its two main characters, the film also features Nirmal Rishi, Brijendra Kala, Sudesh Sharma, Seema Kaushal, Aman Sidhu, and Anoop Sharma. The film's creative and approachable title and trailer, which will showcase a novel concept and a witty, comedic tale, will function as a stand-in for the rising cost of living in the modern day as expenses climb.

Director Avtar Singh said of the release of the film's trailer, "I am extremely glad to convey the phase of a family drama through the film. We have more confidence now that the trailer has been released thanks to the audience's love and enthusiasm. The main character of the film is every man, who struggles to control family spending and, most crucially, his wife, is helpless. I sincerely hope that the audience will adore this special tale of ours."

"I was quite fascinated with the story of this film, and most significantly, my character is very unique of a faithful and miserly husband," remarked well-known comedian-actor Rajiv Thakur in an interview. My excitement increased when I saw how well the "Kanjoos Majnu Kharchili Laila" trailer was received as soon as it was released. I sincerely hope that viewers will love the movie as much as they loved the trailer.

Shehnaz Sehar, an actress, expressed her enthusiasm for the movie "Kanjoos Majnu Kharchili Laila," "I can't even begin to describe how happy I am to have the chance to work on the movie with such skilled and brilliant actors. As soon as I heard about the film's intriguing and humorous plot, I nodded in agreement. I had a wonderful time working on the movie sets, and I can't wait until the movie comes out. I'm hoping the viewers enjoy our on-screen chemistry.