Meeting of DSWs, SSP and DSP Chandigarh held with representatives of various Students' Organisations at PU Campus.
Today, a meeting with regard to upcoming Students Election 2022 was conducted at Panjab University, Chandigarh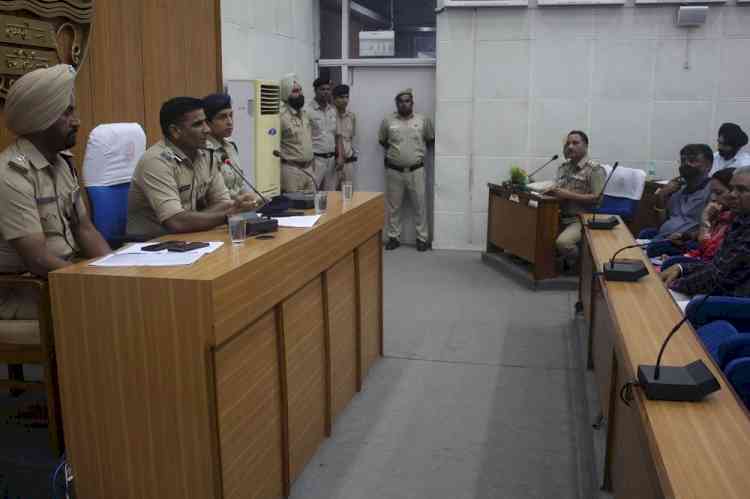 A view of the meeting.


Chandigarh, August 30, 2022: A meeting of the DSWs, SSP and DSP, Chandigarh held today in Senate Hall, Panjab University, Chandigarh with representatives of the various Students' Organizations at P.U. Campus.
 
Prof. Jagtar Singh, Dean Student Welfare; Prof. Roopali Garg, Dean Student Welfare (W); Prof. Ashok Kumar, Associate Dean Student Welfare; Kuldeep Singh Chahal, SSP, Chandigarh; Shruti Arora, SP City, Chandigarh; Gurmukh Singh, DSP Central, Chandigarh; Jasbir Singh, SHO, Sector-11, Police Station, Chandigarh; Chief of University Security; Representative of various Students Organizations and Deputy Registrar (DSW) were present. 
 
The members of the Committee discussed that law and order should be maintained at PU Campus.  Following points were discussed:
 
•    Outsiders' entry to the campus is not allowed.  Different students' organizations should cooperate the University authority in this regard. Concerned students organization will be held responsible if they bring outsiders at the campus.
•    Students Organizations should maintain peaceful and violence free atmosphere at the campus.
•    Students' organizations should not bring a person of criminal nature at PU Campus.
•    Students should always carry their identity cards with them.