Meeting held to finalize admission guidelines for session 2020-2021 of affiliated colleges of PU
The committee discussed in details regarding admission schedule for various UG and PG Courses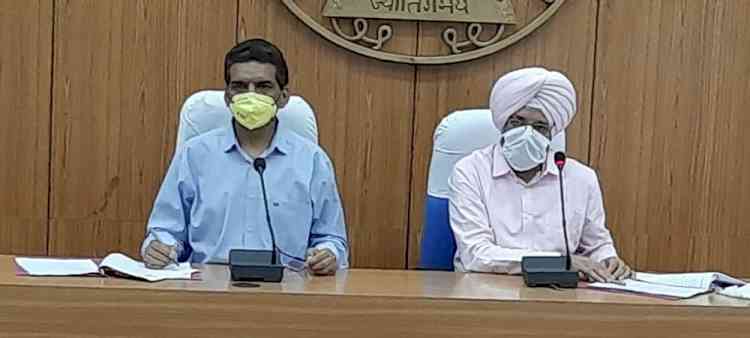 Chandigarh: A meeting of the Committee under the Chairmanship of Prof. Sanjay Kaushik, Dean, College Development Council, Panjab University, Chandigarh, was held today to finalize the admission guidelines for the session 2020-2021, of the affiliated colleges of Panjab University, Chandigarh.  All the necessary precautions due to COVID 19 outbreak, were taken care of during the meeting.  Members of the Committee thoroughly discussed the guidelines keeping in view the current pandemic corona virus (COVID-19) across the world, and decided to take care of the interest of the students. 
The committee discussed in details regarding admission schedule for various Undergraduate and Post Graduate Courses to be included in the admission guidelines which will be prepared in consonance with PU Academic Calendar and Examination Schedule for the session 2020-2021. The committee also discussed about the eligibility guidelines of the admission along with online and offline mode of admissions. The dates of admission are not yet confirmed and will depend upon the examination schedule of the PU. The committee also deliberated on reservations of seats and fee concessions for various courses. 
The Committee consisted of Prof. Karamjeet Singh, Registrar, various Principals of the affiliated colleges, Senate & Syndicate Members and the senior Professors of Panjab University.
***
Department of Music, Panjab University, Chandigarh, has organized a series of four webinars. 
Dr. Neelam Paul, Chairperson and Convener of the webinars, Dr. Rai Bahadur Singh, Assistant Professor, Dept of Music coordinated the webinars. Renowned academicians and performing artists Dr. Diwakar Kashyap form Indira Kala Sangeet Vishwavidyalaya, Khairagarh, Prof. Nivedita Uppal from Punjabi University Patiala, Dr. Swarna Khuntia from Banaras Hindu University, Varanasi and Dr. Sudeepta Sharma from University of Delhi were invited as key speakers.
Live Streaming of all the webinars were telecasted through facebook. Students, Faculty, Academician and artists throughout India connected to facebook live streaming of Webinars. 
***
It is for the information of the general public and students of Panjab University Teaching Departments/Colleges in particular that result of the following examinations have been declared:-
    1. Bachelor of Architecture-Ist Semester, Dec-19
    2. Bachelor of Arts (Honours) Social Science-5th Semester, Dec-19
    3. Bachelor of Engineering (Information Technology)-7th Semester, Dec-19
    4. Bachelor of Physical Education (4year course)-Ist Semester, Dec-19
The students are advised to see their result in their respective Departments/ Colleges/ University website.
***
A webinar on the theme "Opening Up in Lockdown" was organized at Girls Hostel No. 6 Panjab University, Chandigarh. The speaker for the session was Swami Divyatej, a renowned trainer of Art of Living. Swami Divyatej started the session with the statement that discipline is important for freedom. Through practical examples he narrated how our mind goes for new things and our heart looks for old thing/relations/friends. He stated that we have to balance the both to enjoy life. He also extensively discussed the causes of stress and the methods to come out of the same. He emphasized that it is the time to learn human values. Whatever situations come in life, we should use it as an opportunity. Hence, in current pandemic situation, we should learn new skills. While mentioning the seven layers of existence, he asserted that if we want to know ourselves, we have to explore these seven layers of existence. 
The session was inaugurated by Prof Sukhbir Kaur, Dean Student Welfare, Panjab University. Prof  Kaur stated that we all are facing lots of problems due to loss of contact with our friends during current pandemic. Hence, lots of positivity is required to come out of current situation. She applauded the efforts made by the hostel to deliberate upon such an important theme. 
Dr Namita Gupta, Warden GH-6 stated that this is an effort to connect to our residents who are away from their hostels since a long time now and are facing fear and anxiety due to current pandemic. The session was followed by many questions from the students such as: how to control digital indulgence in COVID-19 scenario?; how to control the craving for junk food?; how to deal with anxiety?. All the queries were answered by the speaker. The webinar was attended by the wardens of various Girls' hostels of Panjab University.