Medical fraternity pay homage to all frontline martyrs 
Bhog of Sri Akhand Path Sahib and Ardas held for peace of departed souls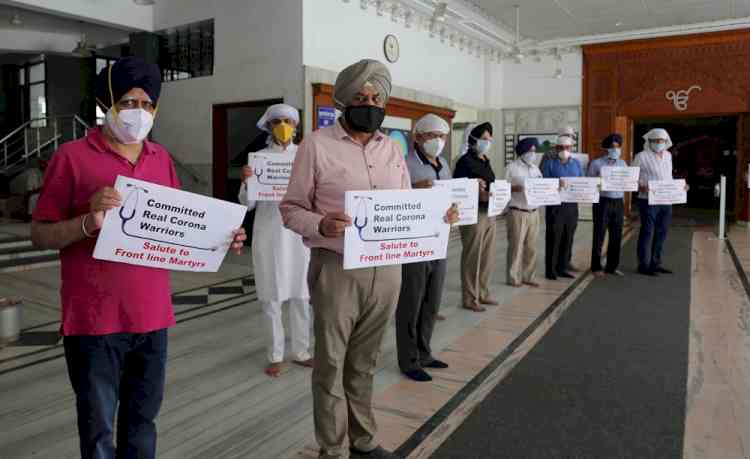 Ludhiana: Doctors and health workers from all government and private hospitals/ institutions paid tribute to all frontline martyrs who have lost their lives while battling against COVID-19 by organising prayers at Gurudwara Singh Sabha, Sarabha Nagar, Ludhiana on Sunday.
Bhog of Shri Akhand Path Sahib and Ardas took place today at the gurudwara for the peace of departed soul.
This ceremony was organised by the members of Indian Medical Association, All Medical Health Care Workers and Medical Fraternity from All Government and Private Hospitals/Institutions.
Today some prominent doctors of the city including Dr Sanjeev Uppal, Dr Prashant Aggarwal, Dr B S Hunjan, Dr Jaiveer Hunjan, Dr Balbir Singh Shah, Dr SS Sibia, Dr Kulwant Singh, Dr Chanbir Singh, Dr Rajinder Singh Sibia, Dr Karambir Goel, Dr Anil Vohra, Dr Narinder Toor and Prof. Satish Sharma were present at the gurudwara during Bhog ceremony of Sri Akhand Path Sahib and Ardas/ Prayer.
Dr Balbir Singh Shah shared that this Antim Ardas was planned to pay homage and respect to the departed souls of real frontline martyrs who had laid down their lives to save the suffering human race during Covid- 19 pandemic. He added that doctors, all health care workers as well as the police personnel have put their lives at risk with selfless determination for saving the lives of others and they are still fighting the battle against coronavirus. "So, we are offering prayers for the peace of departed souls and to give strength to all others who are still fighting the battle," he said.
Dr Prashant Aggarwal said that every day, the selfless warriors are giving it their all in health-care settings while cutting themselves off from their families and loved ones. The sacrifice that they are making for the safety and welfare of humanity is priceless and deserves lifelong gratitude.