MC Commissioner visits micro-containment zone and issues necessary directions to officials
Directs staff to intensify fogging and sanitisation in all micro-containment zones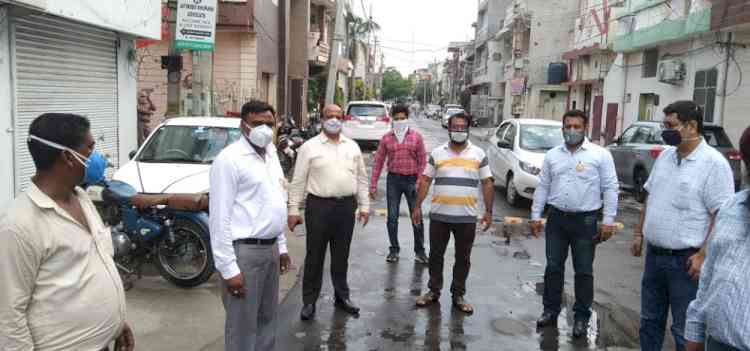 Ludhiana: Mr Pardeep Kumar Sabharwal, Commissioner, Municipal Corporation, Ludhiana, today visited the Micro-containment zone in Kidwai Nagar area of the city and issued necessary directions to the staff. Mr Sabharwal also interacted with the area residents and took their feedback about ground situation.
    The main aim of this visit was to find out the problems being faced by the residents living in micro-containment zones. It is pertinent to mention that the micro-containment zones in Ludhiana include Kucha No 5 in Field Ganj, Street No 3 in Vijay Nagar, Blocks B & C in GK Estate, from Lucky Hairdresser to RS Model School in Navi Abadi Khanna, from house no 37 to 76 in Kidwai Nagar, house no 161 to 209 in Janpath Colony near Ayali and from Sohal Building Workshop to Gas Agency in Street No 3 in Guru Gobind Singh Nagar, Daba Road, here.
    The MC Commissioner assured the residents living in the micro-containment zones that all facilities would be provided to them. He also urged them to assist the government officials in providing facilities to them.He said that the residents should understand that the MC staff has been working tirelessly away from their own families simply to ensure the safety and well being of residents. 
    He informed that all the micro-containment zones are being sanitised several times daily, along with fogging, cleanliness drive and door to door lifting of garbage. He directed the MC officials present on the spot to ensure that all these activities are further intensified so that we can break the COVID chain and make Mission Fateh of Punjab government successful.
    He urged the residents to always wear a mask, maintain physical distancing and maintain hand hygiene. He also urged them not to attend social functions that can be avoided as the number of positive cases have increased in the state in last few days.
    He further informed that as per the latest directions of the Punjab government, now gathering of only 30 persons is allowed in a wedding, 20 persons at cremation and section 144 of CrPC has been imposed in the district, which means not more than 5 persons can gather at any place. He said that Mission Fateh of the Punjab government cannot be successful without public participation.
    He urged the residents to follow all government directions strictly as they have been formulated for the safety of residents.
    MC Zonal Commissioner Mr Neeraj Jain and other senior MC officials were also present on the occasion.