MBD Neopolis hosted a special screening for Thappad around Women's day  
Special Screening of movie Thappad was hosted exclusively for FICCI FLO members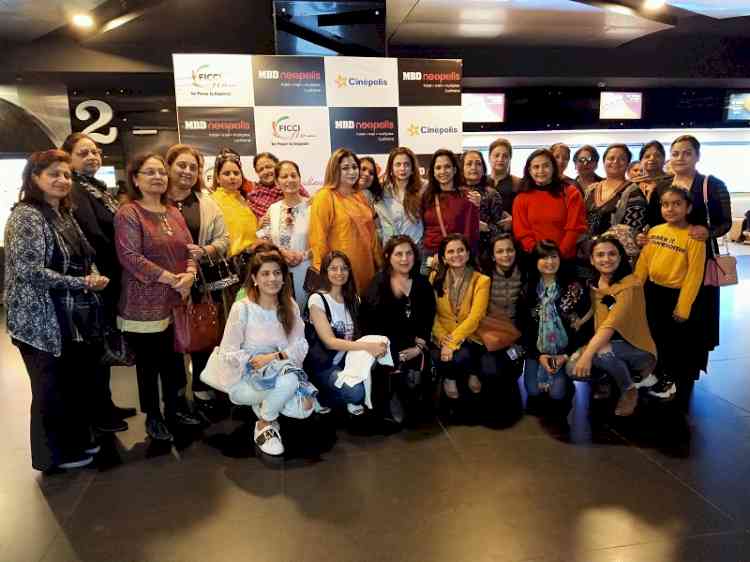 MBD Neopolis hosted a special screening for Thappad around Women's Day.
Ludhiana: MBD Neopolis mall Ludhiana organized a special screening of movie Thappad for the members of FICCI FLO at Cinepolis on Monday. The mall had hosted several event including cake cutting ceremony, makeover activity; flash mob, dance party and lunch treat for the staff and guests to mark the celebrations of International Women's day 2020.  
 
The special screening was exclusively organized for the FICCI FLO members that were attended by members of FICCI Ludhiana chapter. Mannat kothari , Senior vice chair person, Monica Choudhury and Ankita Gupta planned the event and welcomed all the FICCI Flo members for special screening of the movie
 
Joint Managing Director of MBD Group Sonica Malhotra Kandhari said, "Every day is women day but an International Women's day is dedicated to celebrate the achievements of women. She said we at MBD Group have always focused on women empowerment and capacity building. International Women's day was celebrated across all the verticals of MBD group in country. She said it was great to host the successful entrepreneurs of  FICCI FLO Ludhiana chapter at MBD Neopolis mall. 
 
Chairperson of FICCI FLO Ludhiana Chapter, Nandita Bhaskar said, "Thappad movie had a deep meaning and a very strong connect with our women members. It was best to watch this movie on a subject like women empowerment around the International Women day 2020 with all FICCI FLO members. She said movie deals with a very pertinent subject which goes towards the positive direction of women empowerment. She said every member enjoyed the hospitality of Cinepolis and MBD Neopolis mall. 
 
Thappad is a movie directed by Anubhav Sinha. Sinha has also produced the movie along with Bhushan Kumar. The movie stars Taapsee Pannu alongside Pavail Gulati, Dia Mirza, Maya Sarao, Kumud Mishra, Ratna Pathak Shah, and Tanvi Azmi. It is written by Mrunmayee Lagoo.