MBD group organizes meet of distributors and booksellers of Punjab
Group welcomes Union Budget 2020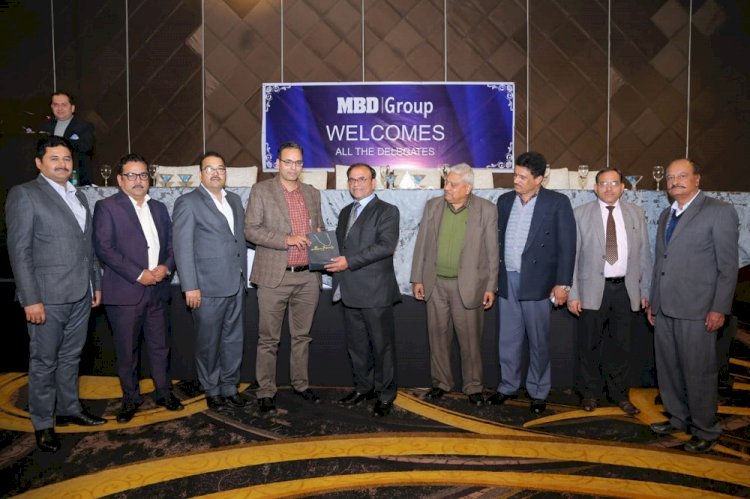 Ludhiana: MBD Group held a Punjab Distributors and Booksellers meet at Radisson Blu Hotel MBD Ludhiana on Sunday. The highlights of the meeting were the discussions on the recent announcements in the education sector in the Union budget 2020. The office bearers of MBD books and dealers and distributors from across the state hailed the budget.
 
Distributors and Sellers from Ludhiana, Jalandhar, Patiala, Bathinda, Mohali and other cities of Punjab  attended the meet where the solutions to various problems were discussed. In the meet, pre-primary books featuring popular Disney and Pixar stories from Mickey & Friends, Princess, The Lion King, Frozen, Cars, Toy Story franchises and more were introduced to booksellers.
 
Managing Director, MBD Group, Monica Malhotra Kandhari, said "Allocation of Rs 99,300 cr for education sector and Rs 3,000 crore for skill development is indeed a positive step towards the overhaul of the education sector. The proposed IND-SAT test for foreign students  and emphasis on External Commercial Borrowing & FDI for education sector are commendable steps by the govt to promote 'Study in India' initiative and making India an education hub. This budget has also taken care of the biggest challenge in the education sector i.e. achieving higher literacy and employment through the announcement of full-fledged online degree programs for under-privileged students and building up of 150 higher education institutions to offer apprenticeship diplomas.The announcement of new education policy will further standardize the education system in the country.
 
Managing Director MBD Group Monica Malhotra Kandhari said, ''We are looking forward to the Disney theme and the educational experts of MBD Group to provide young children an opportunity to embark on an adventure of magical knowledge with their favourite Disney characters. Our aim of releasing the pre-primary book series of Disney Publishing is to make learning opportunities entertaining and informative, to generate curiosity in children and to foster creativity.''
 
Sh. Balwant Sharma (Executive Director) commenced the program by worshiping Saraswati. He said that the MBD Group is emerging as a revolution in the education world. From primary education to higher education, MBD has been certified as a milestone in the path of science, art, literature, mathematics, technical education and health education. On this occasion, Balwant Sharma also announced the new schemes of the company for the distributors and motivated the distributors to take maximum advantage of these schemes.
 
GM of MBD Group Sh. Jawahar Lal Sharma welcomed the guests in his welcome address and assured that in future also his group will launch new titles in all subjects of CBSE and all State Boards and increase the level of education more will take new steps to make it better and easier. Sh. Jawahar Lal Sharma said that like the distributors have given their cooperation to the MBD Group for many years, they will continue to give the same way.
 
Sh. Balwant Sharma (ED), Sh. Jawahar Lal Sharma (GM), Sh. Ravinder Pathania
(GM-Publication), Sh. Ashish Prashar (DBM), Sh. Gurdev Parmar (Manager) honoured the incoming distributors and encouraged them for their good work and also to do more good work in future. On this occasion, Sh. Vipan Sharma (ASM), Sh. Vipin Dutt Kashiv (ASM) and all of Himachal's Sales and Marketing team of MBD Group were present.