Mayor inaugurates robotic knee replacement workshop at Advanced Orthopaedic Institute, Aykai Hospital
With the application of Mako Robotic Arm Assisted surgery, the cutting of bone is amazingly accurate and precise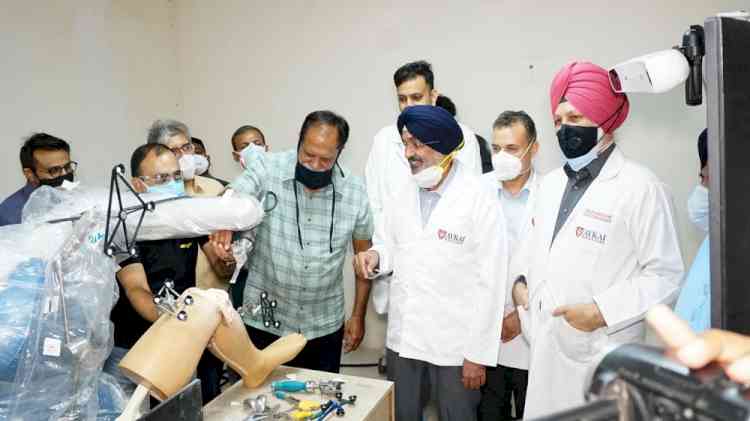 Ludhiana: Latest and most advanced robotic knee replacement was on display here today in a pre-inauguration workshop organized by Advanced Orthopaedic Institute, Aykai Hospital, Ludhiana. Dr Harpreet Singh Gill, Director Orthopedics and Joint replacement & Ex-President Punjab Orthopaedic Association said the workshop has been organised to make Orthopaedic surgeons aware of the application of robotic technology in the knee and hip replacement surgery. Around 50 orthopaedic surgeons of the region in batches had a hands-on saw bone experience of using this advanced Robotic technology. 

The workshop was inaugurated by Mr Balkar Sandhu, Mayor Ludhiana in presence of Dr Baldev Aulakh, Chairman Aykai Hospital. He commented, that Robotic and computer surgeries are the way forward to have better results post- surgery and would be a boon for the patients.

Workshop also was attended by Dr Hari Om Aggarwal, secretary of Punjab Orthopaedic Association.

Mako Robot is the world's most widely adopted (with more than 1000 installations) US FDA approved Robotics Arm Assisted technology for Hip and knee replacements.

Mako generates 3D model from patient's CT scan, which is used to create a personalized surgical plan for each patient. The 3D CT along with the unique "haptic technology" create a virtual boundary and control operation of the cutting tool within this boundary thereby protecting soft tissue and reducing trauma to the patient. With the application of Mako Robotic Arm Assisted surgery, the cutting of bone is amazingly accurate and precise, which would help in getting better results," said Dr Manmohan Singh, Senior Orthopaedic surgeon, adding that such kind of quality surgery enabled patients in leading 25 years of normal life after knee replacement.

Also, this has been shown to significantly reduce post-op pain, improve patient satisfaction, drive faster recovery and quicker discharge and better preserve of natural bone and soft tissues.

Patient benefits: Less post-op pain; Faster recovery and quicker discharge; Less blood loss; Preserves more natural bone and soft tissues; As Precise cuts hence long lasting knee replacement.