Mayank Foundation organises cycle rally in collaboration with Indian Army dedicated to elixir of freedom
Martyr memorial resonated with the slogans of Bharat Mata Ki Jai, Vande Mataram and Inquilab Zindabad.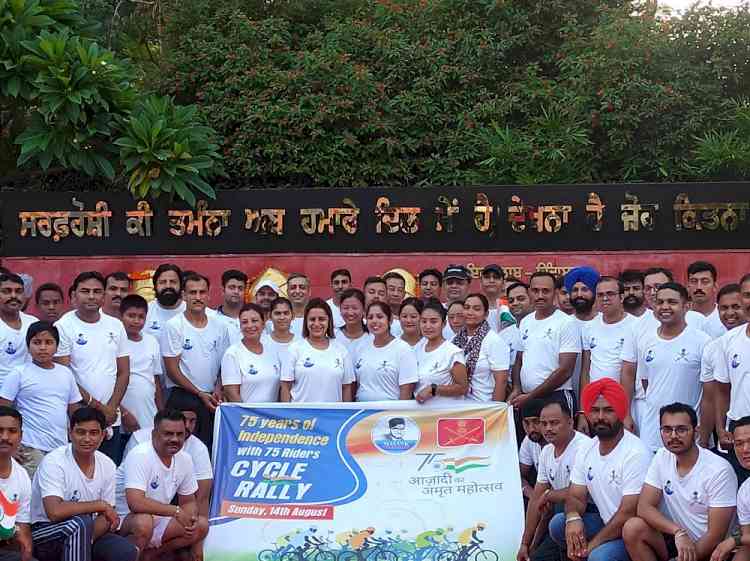 Ferozpur, August 14, 2022: To celebrate the "Azadi Ka Amrit Mahotsav" marking 75 glorious years of Independence and as part of 'Har Ghar Tiranga' campaign, Mayank Foundation along with Indian Army organized a cycle rally in which 75 peddlers participated.  The rally started from Barki Memorial, paying homage at Hussainiwala Shaheed Smarak to the brave martyrs who sacrificed their lives for the freedom of our country with a smile, and culminated at Saragarhi Memorial.
A highly motivated contingent of Mayank Foundation members &  Army officers and jawans, women and children raised slogans of Bharat Mata Ki Jai, Vande Mataram and Inquilab Zindabad amidst an emotionally filled atmosphere.
Dr. Anirudh Gupta, President, Mayank Foundation thanked all the participants for their active support and took a pledge alongwith all other participants to work relentlessly for the nation building, and peace & communal harmony to realise the dreams of the freedom fighters, and also make India an economic superpower and put it on a growth trajectory to join the league of most developed nations.
Dr Ghazal Preet Arneja, Senior Vice President said that while cycling keeps all of us physically fit, going to Hussainiwala also creates a feeling of patriotism in the mind and today it is a very proud moment for us as Indian Army actively participated in Today's cycle Rally. 
Apart from senior army officers and jawans, Dr. Ashwani Kalia, Dr. Akash Agarwal, Adv Avinash Gupta, Aman Sharma, Adv Dr. Rohit Garg, Adv Gaurav Nandrajog and Mayank Foundation's companions were present on this occasion.