Mayank Foundation celebrates 113th birth anniversary of Bhagat Singh in patriotic zeal
The members of the foundation visited the local Saragarhi Gurdwara to pay obeisance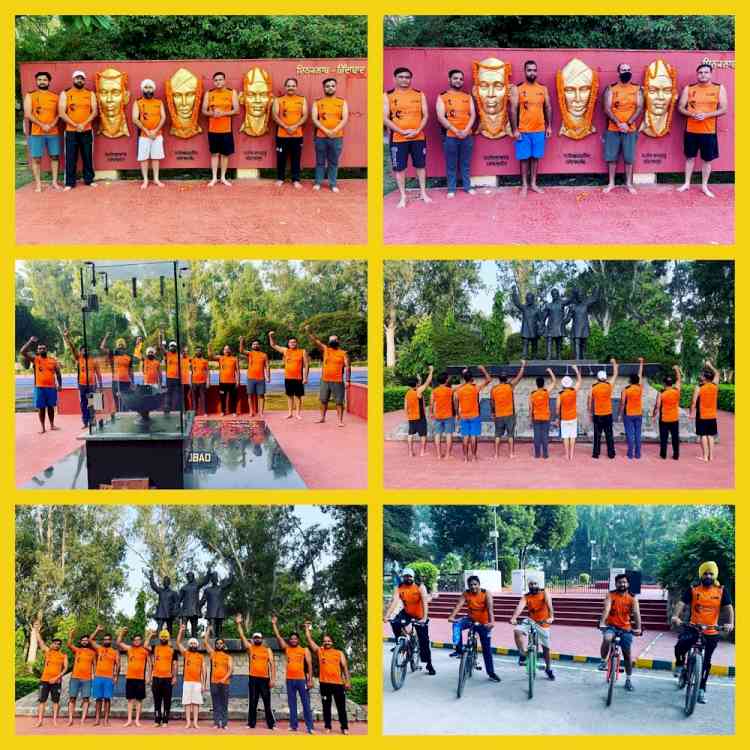 Ferozepur: Mayank Foundation celebrated the 113th birth anniversary of Shaheed Bhagat Singh at the National Martyr Memorial, Hussainiwala Border. Though the occasion was kept a low-key affair due to the covid restrictions, patriotic fervour marks the celebrations.

The members of the foundation visited the local Saragarhi Gurdwara to pay obeisance before pedalling towards Hussainiwala on bicycles. Patriotic slogans and songs added colours to the celebrations.

After paying obeisance to the busts of three martyrs Bhagat Singh, Rajguru and Sukhdev, a brief session of yoga and aerobics was also organized to covey a message of Fit India Movement emphasized by Prime Minister Narinder Modi.

Rakesh Kumar , Ashwani Sharma, Dr. Gazalpreet Singh , Adv Rohit Garg , Vikas Gumber ,Kamal Sharma ,Dinesh Chauhan, Deepak Grover and Manoj Kumar were present during the occasion.