MaxiVision launches 14th branch hospital in Karimnagar
Plans to start 28 hospitals by end of 2020 in Telangana and AP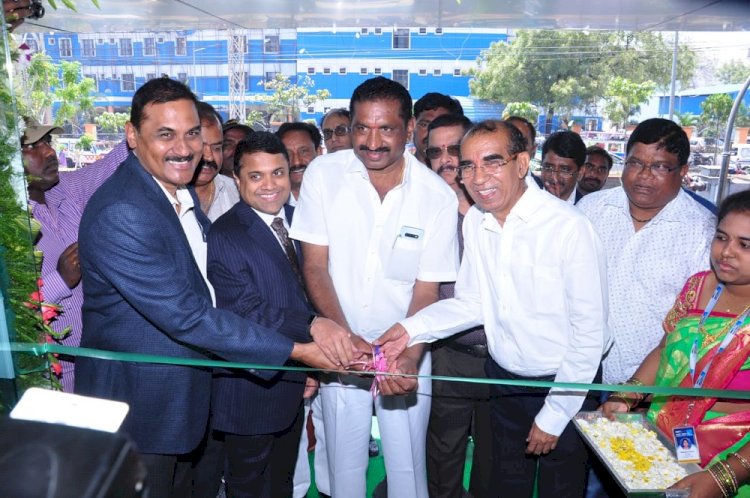 Mayor of Karimnagar city launching 14th MaxiVision branch hospital.


Karimnagar: MaxiVision Super speciality Eye hospitals group has launched its 14th branch hospital in Karimnagar today. Bandi Sanjay Kumar – Member of Parliament, Y.Sunil Rao, Mayor of Karimnagar  have graced the occasion as chief guests and unveiled the new hospital, Dr.M.Sanjay Kumar, MLA of Jagityal, Dr.Jagan Mohan Rao, President of Telangana Ophthalmic Association, Dr.D.Raghuraman, President of IMA Karimnagar have graced the occasion as guest of honor and dedicated the facility to the city of Karimnagar. 
Speaking on the occasion Dr.GSK Velu – Chairman MaxiVision Super Speciality Eye hospitals group said Maxivision is one of the leading group of eye care hospital in twin states of Telangana & AP.The group is poised to be 2nd largest eye care player in South India. Currently, Maxivision operates, 14 Super Specialty Eye Hospitals, across cities, of Hyderabad, Vijayawada, Warangal, Vizag, and Bhimavaram. Over 50 Super Specialty Ophthalmic Surgeons, and 200+ Vision care technicians, work across all branches, to treat entire gamut of eye diseases.
Maxivision will focus on expanding its super specialty eye care network, in Tier 2 and Tier 3 towns of Telangana, and AP as phase one expansion plan, and then spread its network to neighboring states of Tamilnadu, Kerala, and Karnataka. By end of the year 2020, the group will have 28 hospitals across Telangana and AP, and the group has set a vision of being a large chain of 50 eye care hospitals, by 2022, thus being one of the largest eye care service providers in South India.
As a part of its ambitious expansion plan in the southern states and enhance its clinical leadership bandwidth, Maxivision is partnering with successful eye care practices in Tier 2 towns of Telangana & AP, thus adding stellar clinical leadership, and personalized care with local ophthalmologists to remote areas of the state. These partnerships ensure that the local population is being seen by familiar, family ophthalmologist, but with enhanced technology, world standard quality processes, and better service quality. Each partnership model will be a Joint Venture, and joint brand name and expand its network in the hub and spoke model, in all neighboring locations of the hub center. Maxivision will be the principal partner, and investor and will add values on technology enhancement, infrastructure up-gradation, quality processes, strategic management support, brand development, and clinical quality excellence. We are planning an expansion of 7 Secondary care eye hospitals this year, with Karimnagar, Khammam, Nizamabad, Mancherial, Miryalguda, and Medak. Karimnagar is one of the first projects in its expansion plan, and will be one of the largest Tertiary Eye care hospitals, in Karimnagar
Elaborating more on the MaxiVision's successful journey in eye care sector, Dr.Kasu Prasad Reddy, Founder & Mentor, Co-Chairman, MaxiVision Super Speciality Eye hospitals group said , In October 2019, Maxivision partnered with Sharat Laser Centre, in Warangal, a 27 year old reputed and successful practice of Dr.Sharat Babu Chilukuri. Dr.Sharat Babu is one of the reputed ophthalmologists in the country and has pioneered a lot of innovative eye care technology in the region of Warangal. He is also one of the largest cataract care providers in this region under state government schemes and various outreach programs spread across deep rural areas around Warangal. Dr.Sarat Babu has also chaired various positions in All India Ophthalmic Society, and also the past president of United Andhra Ophthalmic Association. The hub hospital in Warangal, caters to around 400 patients per day, with state-of-the-art technology, in Cataract, Retina, Lasik, Cornea, Oculoplasty, and Paediatric Eyecare, through 6 experienced surgeons. As an aggressive philanthropist and active Rotarian, he has partnered with various organizations, and NGO's to cater primary eye care services, and preventive eye care to deep rural pockets in and around Warangal. The hospital also has adopted 30 villages for community preventive eye care and has declared 16 villages as avoidable blindness free villages. Dr.Sarat also operates a Surgical Training Centre at Warangal, for all aspiring ophthalmology surgeons. This institute has trained over 30 surgeons on advanced Phaco Surgeries, from all over, India, Germany, Latvia, Egypt, and South East Asia.  This Group is also associated with Manipal Academy of Higher Education, for training Post Graduate students.
Giving more details on Karimnagar branch hospital launch Dr.Sharat Babu Chilukuri – Chief Medical Director & Managing partner,Sharat MaxiVision Eye hospital said, the hospital will have 4 Super Specialty Surgeons, and will have comprehensive ophthalmic care with state of the art diagnostic and surgical infrastructure. The hospital will provide, advanced Cataract Care, Lasik and Refractive Surgeries, Diabetic Retina and Surgical Retina care, Cornea Care, Oculoplasty, and Paediatric Eye Care. There will be 4 advanced Modular operation theatres, advanced Pathological lab, Optical store, and Pharmacy. The hospital is centrally located opposite to Matha Shishu hospital.
Sudheer – COO, MaxiVision Super Speciality Eye hospitals group, Dr.Annapurna – Medical director, Sharat MaxiVision Eye hospital were also present on the occasion.