Max Hospital, Mohali completes 1000 successful kidney transplants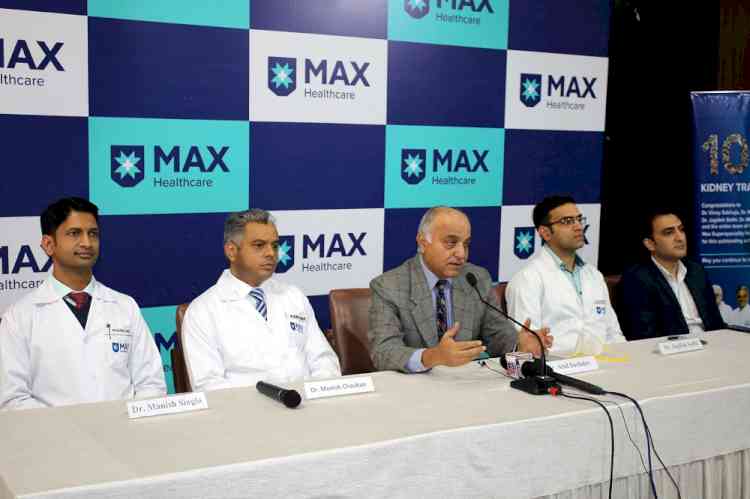 Chandigarh, December 10, 2021: Max Hospital, Mohali on Friday announced the completion of 1000 successful kidney transplants at its Kidney Transplant Unit . Set up in 2013 the Unit has done a variety of transplants and difficult cases like ABO incompatible transplant (a transplant across different blood groups), pediatric transplants, patients with 2nd transplant and 3rd transplant including swap transplant cases.
Talking to media during a press conference here today Dr Munish Chauhan, principal consultant-nephrology and kidney transplant said that with this feat Max has become one of the fastest growing centers for kidney transplant in North India by doing over 100 transplants every year with success rate of over 90%.
Out of total 1000 transplants performed, 22 were swap transplants, 21 pediatric transplant, 64 second transplant and 2 third transplants cases with an average of about 110 transplants per year., said Dr Munish adding the unit has also conducted a third kidney transplant in an individual who had two earlier graft rejects and which was a very rare kind of surgery.
Former PGI nephrology head and now senior director at Max , Dr Vinay Sakhuja said, "Our team is dedicated to help patients through every stage of a successful transplant, offering transplant services to patients with even the most complex medical conditions."
We have done about 70-80 ABO incompatible transplants, where the blood group of donor and recipient is different, with best outcomes. ABO incompatible transplant is now normal at our center with almost 3-4 transplants being done monthly now, said Dr Jagdish Sethi, chief transplant surgeon.
Most of our patients are from Punjab, Haryana and Himachal Pradesh. Patients from Jammu and Kashmir, UP, Jharkhand, Manipur and few international patients have also been operated here, he informed, said Dr Ankush Mehta, GM-operations.
We have opened a new state of the art dialysis unit at Max Medcenter by upgrading the capacity of the dialysis unit to 30 beds. This takes the present day operation to an average of 12500 dialysis per year, said Ankush.