Mask cannot protect from corona virus: Dr Biswaroop Roy Chowdhury
Covid-19 is not a pandemic, it is a game to control the future: Experts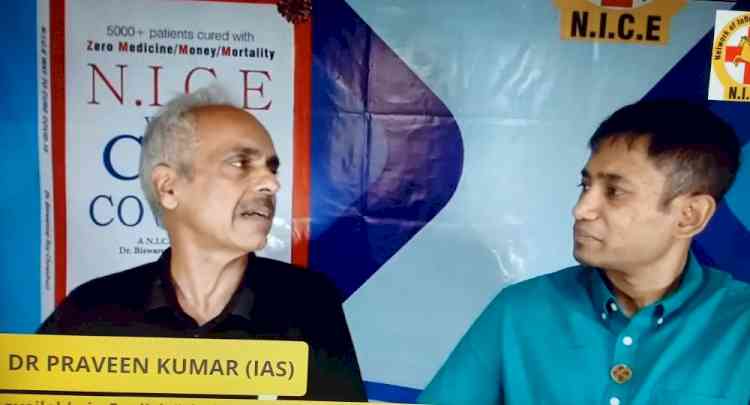 Dr Praveen Kr, IAS and Dr Biswaroop Roy Chowdhury.
Chandigarh: COVID-19 is not a pandemic. It is a game plan of global powers to control the future.  Lockdown is a conspiracy to destroy economy and facemask cannot protect one from Corona virus. On the contrary it can cause more harm and illness. Your immunity saves from diseases, nothing else. These were some of the highlights of a medical web press conference held here today. A book 'N.I.C.E. Way to Cure COVID-19' was also released on the occasion.
 
The event was organized by Dr Biswaroop Roy Chowdhury, Ph.D (Diabetes) and author of 'N.I.C.E. Way to Cure COVID-19'. Other prominent personalities who joined the session, included Dr Praveen Kumar (IAS) Director General cum Secretary, Department of Science & Technology, Government of Haryana, who is also a qualified Homeopath; Dr Amar Singh Azad, MBBS, MD (Chandigarh); Dr K B Tumane, Chest Specialist (Nagpur) and Dr Tarun Kothari, MBBS, MD.
 
Dr Praveen Kumar said, "SARS-CoV-2 is not a new virus and its an integral part of our existence. Its not the virus responsible for any illness or death. Its the host (human) and its immunity which causes death and illness. Allopathic medicines suppress the disease, instead of curing it. Similarly, vaccines only provoke the disease, while antibodies cure it. That's why plasma therapy is effective."
 
Dr Biswaroop Roy Chowdhury said, "My team of 450 members of N.I.C.E. (Network of Influenza Care Experts) have cured more than 20,000 COVID-19/ ILI patients during past three months with three step Flue diet achieving zero medicine, zero money and zero mortality. We have started a N.I.C.E helpline (85870-59169) for the convenience of needy patients."
 
Dr K B Tumane said that ventilator is a mechanical process which kills, while giving Oxygen is the best practice. He advised to take 5 gram turmeric powder twice a day with water to keep the COVID-19 away.
 
Dr Tarun Kothari said that half of the population has already been affected by the Corona virus, however, it does not harm everyone. He said Corona infection is good for us, as it creates antibodies, and the fear is caused by testing.  
 
The participating doctors were of the view that there is no evidence to prove that SARS-CoV-2 is a new virus, it keeps evolving and Covid-19 is just like a normal Flu in terms of Case Fatality Rate (CFR) and rate of transmission (R0) and not a life threatening disease for children or adults or even elderly people. It was also emphasized that wearing a mask cannot protect one from an upper respiratory tract infection (URTI), however, it can make the person sick. There is no evidence to prove that social distancing and lockdown can prevent an epidemic; however, there are evidences to prove the opposite. There is no evidence of Pandemic or Epidemic due to SARS-CoV-2 or any other virus.
 
While treating patient of ILI/ COVID-19 it is observed that within first 24 hours of three step Flu diet, the temperature comes to ≤ 100⁰F for ≥ 90% of the patients.  Within first 48 hours of the three step Flu diet, 60 % of the patients tested negative for Covid-19 and within 72 hours of the three step Flu diet, all symptoms were resolved for approximately 80% of the patients, 75 % of the patients tested negative for Covid-19. With the three step Flu diet for 3 days followed by D.I.P. Diet: 95 % of the patients recovered within 7 days and 100 % of the patients recovered within 14 days. It is possible to successfully treat severely ill ILI/ Covid-19 patients in home setting with zero medicines, without oxygen cylinders or external respiratory support.
 
Severely ill, means temperature ≥104⁰F, SpO₂ ≤ 75 %, Severe Pneumonia,  acute respiratory distress syndrome, for more than 95% of the patients and their family members, the panic situation is not due to symptoms or physical discomfort rather it is due to the Covid-19 phobia and fear psychosis.