Martial arts culture is reason for Manipur rise in judo
Manipur bags two gold medals and a silver on last day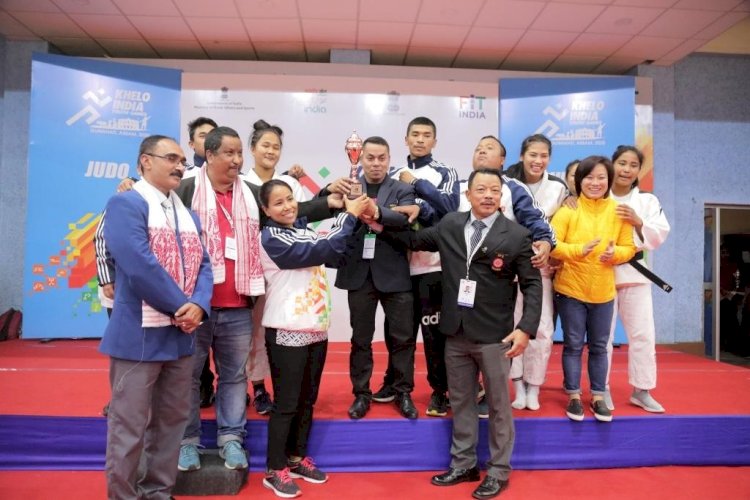 Guwahati: Manipur's rise in judo in recent times was well documented here at the Khelo India Youth Games 2020 with judokas from the state taking home a total of 17 medals – six gold, four silver and seven bronze. Inspired by Tababi Devi Thangjam, who in 2018, became the first-ever Indian judoka to win an Olympic medal (senior or junior) when she won a silver medal at the Youth Olympic Games in the Women's -44kg category, Manipur's young and upcoming judo athletes have taken the baton in their own hands, and are aiming to follow in her footsteps.
 
Manipur bagged two gold medals and a silver on the last day of the judo competition to finish second on the judo medals' tally, with Rebina Devi Chanam (-70kg) and Indubala Devi Maibam (-78kg) winning their events, while Inunganbi Takhellambam (-63kg) finished second. "After Tababi Devi won the silver medal at the Youth Olympics in 2018, there was an influx in the number of judo players who joined our academy back in Manipur. The region has always had this martial arts' culture, and judo has also benefited because of it," said their judo Team Manager, Deven Moirangthem.
 
Last year, Manipur had only managed to win two golds, three silvers and five bronze medals, and Manipuri women's coach Chingkheinganbi credited the sporting environment for the state's rise in judo, "The youngsters back home like martial arts very much, as compared to other sports. We have a great environment in which we train our athletes, and I think that is the reason the landscape is changing in the state for judo, and we are able to produce better athletes." Speaking on Manipur's best bet at the upcoming Tokyo Olympics, Chingkheinganbi said, "I think L Sushila Devi is one of India's top judokas right now, and we are all hopeful that she can qualify for the Olympics."
 
Gold medalists Maxlaishrm Meetei (Women's -66kg), K Bishal Singh (Men's -73kg), Jagadish Meitei Laishram (Men's -66kg) and Matouleibi Devi Huidrom (Women's -57kg), also led Manipur's charge in judo with top performances in their respective events.
 
At last year's edition of the Khelo India Youth Games in Pune, it was Delhi who had finished with the maximum number of medals (12G, 3S, 7B), but Gujarat surpassed them in Guwahati with seven gold medals to their name, along with a silver and eight bronze medals – improving on their last year's haul of 2 gold, 2 silver and 5 bronze.