The Marcom Avenue visited Harmony House Gurugram 
To spread love and cheer among under-privileged students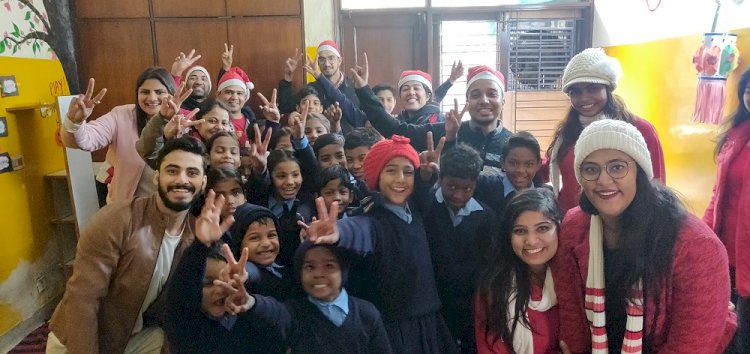 Gurugram: The Marcom Avenue celebrated the New Year's Eve at Harmony House, an NGO which provides education to over 250+ under-privileged children between the age group of 5 to 15, from in and around Gurugram.
To make the celebration merrier for the under-privileged, The Marcom Avenue Team became Santas for the day and presented a variety of gifts like and not limited to chocolates, stationery, story books and winter clothes.
The whole team of The Marcom Avenue consisting of 50+ people, made sure that the children had the time of their life, as the members had planned various games and activities like dog and bone, Pictionary, dancing, singing and paper cup, etc. for the students, who actively participated in the games. The Marcom Avenue also donated winter blankets for the children at Harmony House to keep them warm and comfortable through the winters.
Divanshi Gupta, Director, The Marcom Avenue upon meeting and spending the New Year's Eve at Harmony House, "It was an honour to have the opportunity of celebrating the coming of new year with these young, bright and enthusiastic students. We, The Marcom Avenue Team, truly felt the meaning of 'Joy of Giving', and want to thank the whole team of Harmony House for their continuous and relentless effort for being Santas all year along for these children."
Meenakshi Khanna, Head Teacher of Harmony House expressed gratitude, "We are thankful to The Marcom Avenue who chose to spend their day with our students and brought gifts with them for each and every child. The children had an amazing day participating in all the fun and frolic."