Many restrictions of lockdown reduced in Kangra districts from toady
To facilitate people to work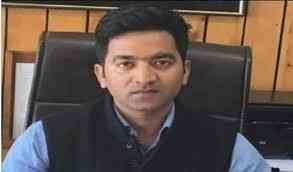 DC Kangra Rakesh Prajapati in Dharamshala.
Dharamshala: The movement of farmers and horticulturists between Kangra and Chamba district has been allowed by the District magistrate Kangra  from today, to facilitate them to work in their fields during ongoing Covid 19 pandemic. For this they have to apply for online passes which shall be given after full verification . This was announced in a press briefing by DC Kangra Rakesh Prajapati in Dharamshala today. He said that other than the shops, which are opening during the lock down in Kangra district, the shops of poultry, meat and fish, eggs, electronics, plumbers and carpenters shall also open now from 8 am to 11 am daily n the district." IT repair shops and book shops shall be allowed to open on Monday and Thursdays only.
DC said that auto/truck/tractor repair and wielding shops and agricultural implement repair shops shall open from 8am to 2 pm daily.
He added that the movement of public for these services shall continued to be permissible  from 8 to 11 am. Banks and ATM service shall work as they are working in lock down. Farming is allowed 24 hours.  He said, " Except from the containment zones from time to time the other activities permitted in the district are of insurance companies, operation of brick clin  in rural areas with local labour, operation of fishing /agriculture industry, courier service subject to permission obtained for vehicles, e commerce delivery of food items, baby products, pharmaceuticals and medical equipments, MGNREGA works, construction activities. The permission of such works shall be given by the related office/ authority."
He added that the inter district and interstate movement shall be permissible only with the permission of DM. SDMs shall give permission of movement within district.
He said that the labour required for all works should be available localy, and social distancing norms have to be maintained at any cost at all levels and all places.