Manoj Sonkar Manu weighed with laddoos, Anil Kumar Dubey with coins
An appeal was made to the people at Vikas Nagar Mandi in Chandigarh today to vote for BJP candidate Manoj Kumar Sonkar (Manu) from Ward 7 and Bimla Dubey from Ward 9 in the upcoming Municipal Corporation elections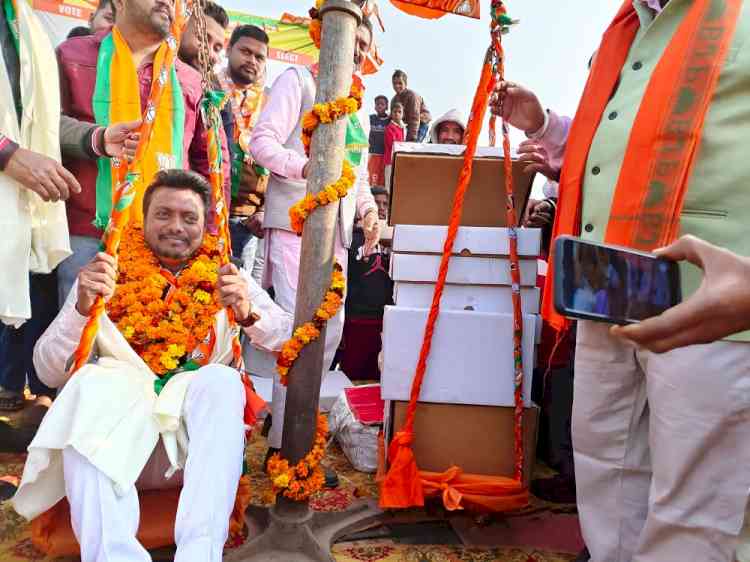 Chandigarh, December 18, 2021: An appeal was made to the people at Vikas Nagar Mandi here today to vote for BJP candidate Manoj Kumar Sonkar (Manu) from Ward 7 and Bimla Dubey from Ward 9 in the upcoming Municipal Corporation elections. Sonkar was weighed with laddoos and Anil Kumar Dubey was weighed with coins. Anil Dubey said that our full support is to Manoj Sonkar. We have done a lot of work in our area and will continue to do so. We did a lot of work even during Covid. Sonkar and Dr. Rajiv, Health Minister, Himachal Pradesh, also addressed a street meeting in Mauli Jagran.
Samrat Chaudhary, Minister of Panchayati Raj, Govt of Bihar, said "it is my good fortune that I have come here. Today we met Haryana CM Manohar Lal Khattar. We demanded that Purvanchal Bhavan should be built in the City. It will be made soon. Everything under Modi government in the country is happening without corruption. My best wishes to Manoj Sonkar and Bimla Dubey. No sarpanch, MLA, MP, MC is ever found under Congress rule, but today 12 ministers of Bihar government are campaigning for BJP here."
Manoj Sonkar (Manu) is continuously meeting the residents of his area in Mauli Jagra, Charan Singh Colony and Vikas Nagar and asking them to vote for him. He said that the party has done a good work in terms of schools, tube wells, roads, tiles, parks etc.