Maintain healthy mind and healthy body for success in life
Advises Lyallpur Khalsa College's principal to students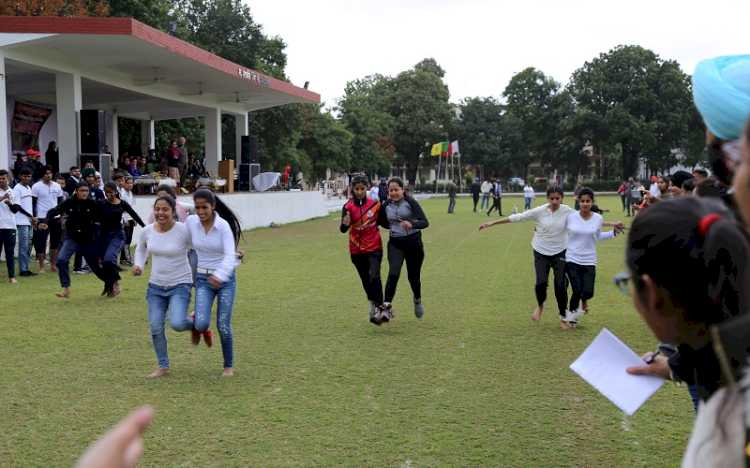 Jalandhar: `[email protected]', the annual sports event of PG Department of Computer Science & IT was duly organized at Lyallpur Khalsa College Jalandhar with the aim of inculcating interest in sports. 
Principal Dr. Gurpinder Singh Samra, Prof. Jasreen Kaur Dean Academic Affairs and HOD Dr. Manohar Singh inaugurated the sports event among a vivacious atmosphere. 
Speaking on the occasion, Principal Dr. Gurpinder Singh Samra congratulated the Computer Department on the event and motivated the students to maintain a healthy mind and healthy body for success in life. In this event, 322 students from six different department of the department namely Sigma, Gopher, Abacus, Omega, Chrome and Zigbee participated with full enthusiasm. 
The events of the day included 100 meter race, 4X100m relay, Sack race, Shot Put, Long Jump and Lemon race for boys and girls of the department. Besides, a 400 meter race was held for the female faculty members of the department. Sigma house won the first trophy in the events. Principal Dr. Gurpinder Singh Samra, HOD Dr. Manohar Singh and senior faculty members gave away prizes to the winners. Dr. Manohar Singh presented the vote of thanks whilst Prof. Sanjeev Anand, Prof. Karamjeet Kaur Randhawa handled the commentary duty for the event. 
On the occasion, Prof Baldev Singh, Prof Sandeep Bassi, Prof. Sandeep Singh, Prof. Mandeep Singh Bhatia, Prof. Gagandeep Singh, Prof Manpreet Singh Lehal, Prof. Ratnakar Mann and other faculty members of the department were also present.