Mahila Shakti Kendra's counter opened in Dharamsala's main post office
This Shakti Kendra will have the facility to display and sell the products made by Self Help Groups of the area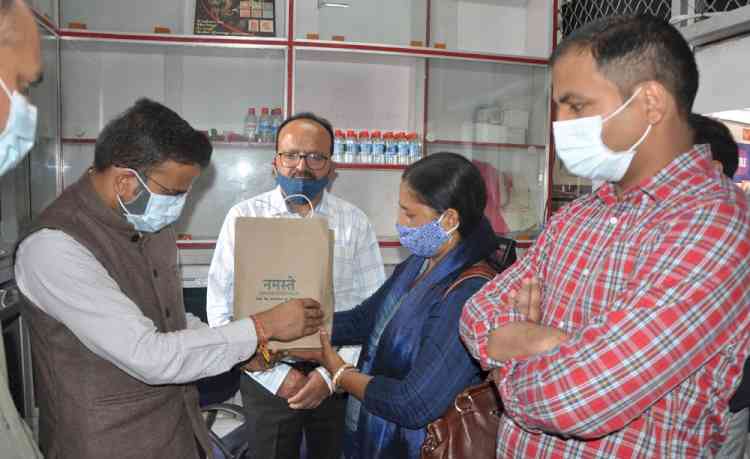 Dharamsala: Deputy Commissioner Dr Nipun Jindal on Monday inaugurated a counter of Mahila Shakti Kendra at Head Post Office Dharamshala under State Rural Development Mission. This Shakti Kendra will have the facility to display and sell the products made by Self Help Groups of the area.
Nipun Jindal said, "Effective steps are being taken to provide better marketing facilities to women self-help groups to sell their products. In this direction, the first counter has been set up in the post office of Dharamsala. Similar counters will also be opened soon at  Kangra, Palampur and Dehra in the district so that Self Help Groups can get better facilities."
The Deputy Commissioner said that the counters of Mahila Shakti Kendra are being opened only with the joint efforts of the State Rural Livelihood Mission and the Department of Posts. This step will prove to be worthwhile in the direction of strengthening the economic condition of Self Help Groups. He said, "Self-help groups are doing better work at village level in Kangra district. Along with financial assistance, training is also being given regularly to self-help groups to prepare products so that the quality of local products can also be increased."
He said that Self Help Groups formed under Rural Development Department can put their products for sale at the counter of Mahila Shakti Kendras, after the sale of products at this counter; the amount will be transferred directly to Self Help Groups. He said that with the opening of the counter, the local products will also get a new identity and this will also increase the trend of the people towards local products.