Mahatma Gandhi Jayanti celebration commences at PU
The workshop was attended by many participants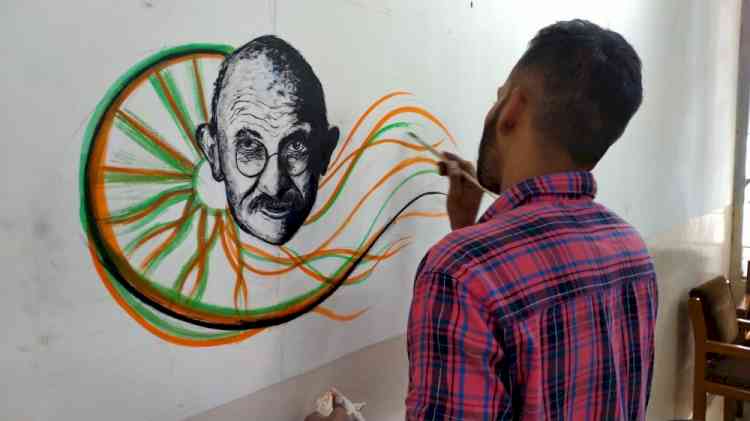 Chandigarh: The Department of Gandhian and Peace Studies in collaboration with the Panjab University Alumni Association and Social Substance organized Online Painting Art Workshop (Live Demonstration of Wall Painting of Gandhi ji) by Mr. Rohan Riaou via Cisco WebEx online portal in celebrating Mahatma Gandhi Jayanti on 28th September, 2020.
While welcoming the audience and other invited members of PU Alumni Association, the Chairperson of the Department Dr. Manish Sharma while remembered and paid respect to  Shaheed-E-Azam Bhagat Singh and other freedom fighters. And he also introduced the artist Mr. Rohan who has left his marks at various places like Chattbir Zoo where his wall paintings were very much appreciated and loved by many visitors.

The theme selected by Mr. Rohan was Gandhi with his Charkha from which positive vibrations of self-sufficiency and self-reliant was emerging. The workshop was attended by many participants and Mr. Rohan explained in details about the different formations of the art and other details relating to the art piece.

In the end, Dr Manish Sharma proposed vote of thanks to all the participants and other invited members of PU Alumni Association for attending and appreciating the hard work and talent of Mr. Rohan. Dr Sharma also informed the members that tomorrow at 10 am onwards the on the spot Slogan Writing Competition will be organized via Cisco WebEx again in collaboration with the PU Alumni Association.