M3M Foundation's iMpower program wins India CSR Leadership Award for Most Innovative Community Engagement Project 2021
Dr. Aishwarya Mahajan, President, M3M Foundation received the award from Karnataka Chief Minister Basavaraj Bommai at the 12th CSR Leadership Summit held in Bengaluru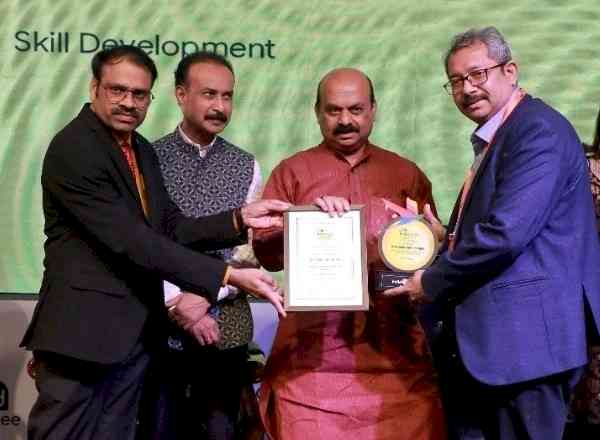 Gurugram, December 14, 2021: M3M Foundation―the philanthropic arm of M3M Group has won the coveted India CSR Leadership Award 2021 for its flagship iMpower program. The program that has benefitted over 700 marginalized families of construction workers in Gurgaon was recognized as the Most Innovative Community Engagement Project 2021 at the 12th CSR Leadership Summit held in Bengaluru. Aishwarya Mahajan, President, M3M Foundation received the award from Karnataka Chief Minister Basavaraj Bommai in a gathering of 400+ participants, 300+ organizations, and 50+ speakers from corporate, civil society, venture capital sector, start-ups, social enterprises, academia, and media.
"It is indeed a great honour for us to receive this coveted award from the hands of Honourable CM of Karnataka. This award is for all those families of construction workers who believed in the soul of this programme. Despite the challenges of COVID situation, their active participation in the programme has given us this confidence to not only improvise the implementation but also extend this to the other labor camps as well. I am happy the efforts are being recognized at the national level. Congratulations to the whole iMpower team involved in planning and implementation" said Dr. Payal Kanodia, Trustee, M3M Foundation.
As described in the name, iMpower  is a holistic programme for construction site workers and their families through community led worksite upliftment programme by maximizing the potential of workforce through ensuring resources in Delhi NCR. With its innovative approach and well-equipped portable infrastructure, the programme has reached more than 700 families in the last two years. More than 550 Children including 200+ children with ECCE support, 50+ Families linked with the government schemes, 100+ women at labour camps linked with livelihood interventions, health support to more than 15000 people through a Mobile medical unit and other health interventions, COVID testing and Vaccination of more than 10000 people residing at construction sites, Food security of 700 + families during the hard times, nutritional support to 500+ children in 5 labour sites in Gurugram and have a vision to expand the same to all the construction sites it can reach.
M3M Foundation, the philanthropic arm of M3M Group, is working towards bringing equitable development for attaining a brighter India. Education, environment, health, disaster management and socio-economic development are its key areas.  The Foundation believes in taking an innovative approach to address social issues by developing a self-sustained program.