M3M Foundation develops well equipped educational infrastructure for children of construction workers in Gurugram
The infrastructure which is a part of Foundation's iMpower programme was inaugurated by Trustee Dr. Payal Kanodia in Gurugram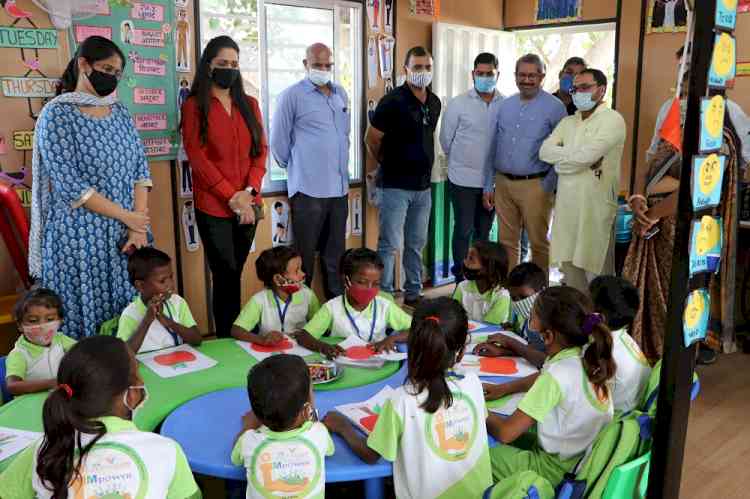 Gurugram, October 8, 2021: Transforming its vision of providing better access to quality education, M3M Foundation has developed fully-equipped educational infrastructure at 65th iMpower club, 65th Avenue, Gurugram. The infrastructure is a part of M3M Foundation's iMpower programme and was inaugurated by Trustee Dr. Payal Kanodia. She interacted with the children, families and teachers during the occasion. The Foundation believes that such positive endeavors will ensure that quality education reaches, all equally. Site manager Mr. Parveen Sehgal, teachers, government officials, ANM workers were of great support to this infrastructure for iMpower club, 65th Avenue. They were also present in the inaugural ceremony.
"M3M Foundation is trying to bridge the gap between quality education and the marginalised children by utilising all the available resources. This initiative is an example of how we can utilize creativity, talent and resources to develop infrastructures that can be resourceful to impart education with comfort, ease and safety. We will continue to come up with such efforts to help children in their social, physical and cognitive development," said Dr Payal Kanodia, Trustee, M3M Foundation.
The fully-equipped classroom has all basic amenities including furniture, drinking water, study material, washroom etc.for the comfort and  ease of the children. The Foundation is making sure that all Covid-related SOPs are strictly followed for maximum safety.
Understanding the role of digital education, iMpower also plans to transform it into smart classes by providing internet facility, digital screens, etc soon. Additionally, the classroom is also an example of how the Foundation is using creativity to deal with the lack of resources in providing better access to education.
Dr. Kanodia also adds that the Foundation is determined to bring development across all sections of the society by undertaking projects that ensure holistic growth with prime focus on health, education, disaster management and socio-economic development to transform rural lifestyles.