Lyallpur Khalsa College organizes one day webinar on 'Career Opportunities for Science Graduates'
There is no shortage of opportunities for science graduates: Dr. Atul Khanna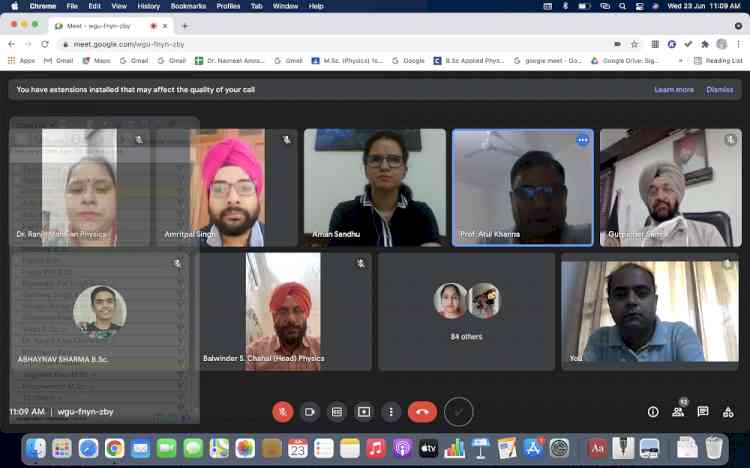 Jalandhar: A one-day webinar on 'Career Opportunities for Science Graduates' was organized by the Department of Post Graduate Physics, Lyallpur Khalsa College, Jalandhar. In this webinar, Dr. Atul Khanna, Professor in Physics, Guru Nanak Dev University, Amritsar was the resource person.
Principal Dr. Gurpinder Singh Samra and the coordinator of this webinar Dr. Balwinder Singh Chahal, Head, Department of Physics welcomed the resource person. Principal Dr. Samra addressing the students encouraged them by saying that there is a hidden potential in every person and we should guide it to achieve our goals while finding it. He also advised the students to have a holistic approach to life.
The resource person Dr. Atul Khanna emphasized the fact that there is no shortage of opportunities for science graduates, provided they are proficient and aware of the various options available in their respective fields. He informed about the various positions available in the industry, public sector and the eligibility criteria for them. He informed the students about the various fellowships available in higher studies in India and abroad. He also advised the students to be confident and focused on their goals.
On this occasion, Dr. Narveer Singh, Dr. Amritpal Singh, Dr. Ranju Mahajan, Dr. Navneet Arora, Dr. Ravneet Kaur, Dr. Mandeep Kaur, and teachers of other departments were also present. Dr. Amanpreet Kaur Sandhu was the technical moderator of this webinar.