Lung cancer patient with heart condition gets new lease of life
In surgery about 60% part of the right lung was removed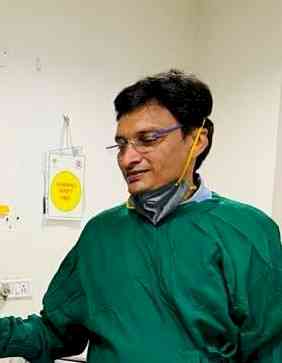 Dr. Vijay Bansal, head of department of onco-surgery at Ivy hospital.
Mohali: A 64-yr old cardiac patient, suffering from right lung cancer got a new lease of life after a successful difficult surgery at Ivy Hospital, Mohali recently. He was having bleeding in sputum and the cancer was involving bronchus intermedius (windpipe of the right lung).
Led by Dr. Vijay Bansal, head of department of onco-surgery at Ivy hospital, the surgery was performed by well-trained thoracic cancer surgery specialists who are well trained in thoracic cancer surgeries.
Giving information, Dr. Vijay said that during surgery, the right bilobectomy (middle and lower lobes) were removed along with mediastinal lymph node dissection,
Dr. Vijay who had earlier worked in Tata Memorial Hospital, Mumbai said that this surgery was very difficult because the disease was involving the right interlobar pulmonary artery, the main vessel directly coming from heart. After removal of the tumor, vascular repair of this vessel was done, he informed.
In surgery about 60% part of the right lung was removed, said Dr. Vijay adding now the patient is absolutely fine with normal oxygen saturation at room air. He was discharged in stable condition.
Dr. Vijay further informed that as we have to deal with structures like heart, lung and big blood vessels, these lung cancer surgeries require expertise, team and very advance operation theatre set up along with good critical care team and intensive care setups.